He Broke Out in Song
Posted by Leticia, 11 Sep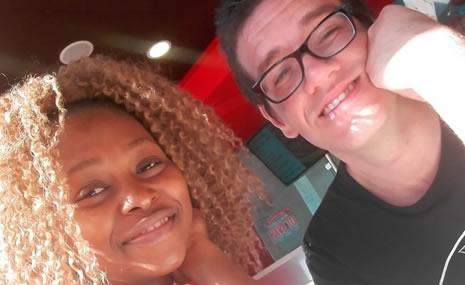 "I've always wanted to marry a white guy," laughs Siya. "So online dating was my only choice to find that. I wasn't exactly confident, but that's why I wanted to give it a chance!" When she posted a profile on our site, it was her first experience with online dating.
"This isn't my first experience," says Ruan. He was drawn to online dating because its large comfort zone compared favorably to more direct ways of meeting new people, like bars or chatting up women at the supermarket. "Because I was always shy and anxious to approach a girl face-to-face, online dating gave me that confidence to chat casually before just meeting someone, which made it a lot easier for me," Ruan explains. "I've met many people online, and I was a member for at least a year before I met Siya."
Find your soulmate on InterracialDatingCentral










The challenge for Ruan came down to finding a match in his neck of the woods. "I was always discouraged because nobody was ever really in my area," he laments. "But getting to know Siya as a friend first gave me the confidence to take the next step and meet her, even though we lived in different areas."
A week into Siya's membership, she was introduced to Ruan. "He reached out to me via an instant message," she reports. What spoke to her about this fellow's profile was the fact "that he loves dogs and he lived close to me, because I've met guys who lived far from where I live." What's more, Ruan was very much her type.
Ruan really liked that Siya shared his interests. "The stuff we shared made me realize we had so much in common. Her interests were my interests too, like baking and cooking, and we both love nature so much." What convinced him to propose an in-person meeting was "the fact that we just clicked." Siya couldn't say no! "He was really interesting," she explains.
So what did that date look like? "We met in Claremont, and from there we went to Wynberg Park and just chilled, talked and enjoyed the view," says Siya. Her first thought upon seeing him in the flesh was, "He's tall!" She laughs and adds, "The nice kind of tall though, and he was smiling." Ruan shares what was running through his mind at that moment. "Believe it or not, I thought, 'wow this girl is short…' though also the nice kind!"
Neither person felt as though the person they met that night differed greatly from their online incarnation. "He explained himself in detail on his profile," Siya says, and Ruan echoes the sentiment. The most surprising thing that happened that night was Siya learning about one of Ruan's hidden talents. "He can sing!" she exclaims. In turn, it surprised Ruan "that her parents were pastors, and that she sings in the worship."
Afterward, they told family and friends that it was a highly successful outing. "I was like, 'this guy is so interesting, and I would like to meet him again,'" Siya recalls. Ruan was on the same page. "I was feeling good," he tells us. "I felt like I was meeting someone really nice and interesting who took an interest in me, too."
The challenge for these two was figuring out how to get more time together. "Not being able to see each other as often as we would like" was the only hurdle in the path forward, says Ruan. Siya regrets "that we won't be able to see each other during the week, only being able to see each other Saturdays. Only once a week!"
One day, Siya was at work when she realized she had to have more Ruan in her life. This realization made her answer easy when he posed a particular question. "He took me to a lookout point in Gordon's Bay, and we had Lindt chocolates in a heart-shaped box," says Siya, describing the circumstances of their engagement. "The ring was hidden underneath one of the chocolates. It was so special."
Now that the couple is engaged, a whole new world has opened up for Siya. "The way I view things has changed," she informs us. "I see it all differently; it's not all about me anymore, it's about us." Finding love has changed Ruan's perspective, too. "It made me realize that true love still exists and that I can be there to serve and love her like I always wanted to."
Here's what Siya has to say to single ladies on our site. "My advice to all women is not to force anything; just let it flow," she advises. "If you like a guy, tell him. [If he doesn't reciprocate] it's not the end of the world. He might even open up and be confident enough to confess his love for you, too."
Ruan also wants to stress the importance of a courageous heart. "Take a chance," he urges everyone. "If it's online, at least you didn't get turned down in public, haha. I gave up on love sometimes, but I eventually started believing again. Don't give up on your dreams! It is within reach."
You just have to try.
5 responses to "He Broke Out in Song"
Leave a reply
You must be logged in to post a comment.