Cuddle Up, Folks
Posted by Leticia, 22 Sep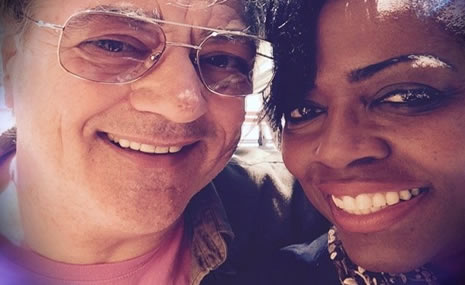 Marie and Peter were no strangers to online dating. They'd each tried before and had no luck finding love. "I was not confident at all," admits Marie. "Neither was I," Peter agrees. "But I went ahead and signed up as 'PGPRPMT'."
Marie nods. "I was Java_Smooth1." Before long, Marie's patience had paid off. "I was online about 30 days before I got a flirt from Peter," she recalls.
Find your soulmate on InterracialDatingCentral










For Peter, it took just seven days. He found Marie's profile almost immediately and his interest was sparked by "her pictures, and the fact that she was searching for a partner to converse with." Marie was looking for companionship, just like he was, and he became "eager to meet the person behind the photos."
Marie decided they'd be ready to meet in person "after we had a phone conversation that we both enjoyed." But since that turned out to be all of their conversations, the decision was easy…
"We met while I was at work," Marie says. That might be an unorthodox place for a first date, but the moment these two saw each other, it didn't matter WHERE they were. "I thought he was sexy!" Marie declares.
Peter smiles at that. "I thought she was even better in person...and we were very compatible." Marie confirms this and says they were both "100% sure" they were going out again.
Speaking of percentages, Marie is embarrassed to admit that, initially, she thought Peter was only "90% my type." That's pretty close, though! "I'm very happy that I didn't let that other 10 percent hold me back," she says gratefully. "He's definitely worth it."
Is there anything they've learned to appreciate about each other that wasn't immediately clear in their profiles? Marie doesn't even have to think about it. "How incredibly thoughtful and warm-hearted he is," she gushes. Peter doesn't hesitate, either. "How much she loves to laugh and smile!"
The only obstacle they had to deal with was Marie's work schedule, but that wasn't going to stop them. This couple in the making knew they'd won the love lottery.
Building this relationship with Peter has filled a void in Marie's life. As she puts it, "I get hugged and cuddled all the time now, and that's very nice!" Peter agrees completely and says he's found "more happiness and contentment" since he and Marie have been together. And he wants to point out that Marie isn't lacking in the affection department. "She gives great hugs and kisses too!"
While Peter advises other romance-seekers to "just be honest," Marie wants to emphasize that "you shouldn't be so dogged about what you put in your profile. Give the guy who doesn't quite fit your expectations a chance. You could end up like me — very happy!"
And that's a place we want to be.
6 responses to "Cuddle Up, Folks"
Leave a reply
You must be logged in to post a comment.