Best Friends Since the Bookstore
Posted by Leticia, 28 Nov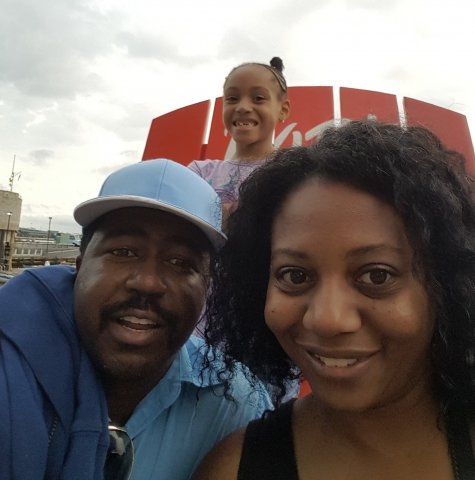 Like many people, Anitra and Terence weren't thrilled with the singles scene in their area. Anitra wanted to find new "options" in her dating life, so she took the online plunge for the first time. After posting a profile on our site, she put her odds of success at 50/50.
"I had been on several sites and did not have any luck until this one," Terence says of his online dating experiences before joining us. "I was beginning to lose hope in online sites!"
Find your soulmate on InterracialDatingCentral










In a matter of weeks these two had connected. "Anitra sent me a Flirt first," remembers Terence. She reached out because she saw, in his profile, "a spiritual connection and other shared values." Anitra also liked that he was local. Geography can be a major stumbling block for couples who meet online, so it really helped that these two lived in the same area.
Their "close proximity" appealed to Terence as well, he tells us. After some good telephone time, the pair decided to meet in real life. "We met at a Barnes & Nobles Bookstore and shared wonderful conversation," recalls Anitra. Their first impression? "Very attractive!" they exclaim in unison.
It shocked Anitra "how easily we talked to each other, as if we'd known each other for a long time." Terence believes they bonded almost instantly. "We became the best of friends after our first date," he declares.
After that, both parties involved were "very sure" they needed to try a second date. The dates soon multiplied and with more time together they only came to care for each other more. "Terence has a kind and gentle heart," notes the lady. "Anitra is extremely encouraging," says her fella.
Terence indicates that Anitra is "very similar" to what he deemed his "type," before meeting her. She says that he's "all that and more!"
It was smooth sailing from there, without any significant challenges to report, so we asked them, "Where were you and what were you doing when you realized this relationship was special?"
"Our first time cuddling on the couch," is Anitra's answer. Says Terence, "When Anitra met my family."
In fact, the couch was the scene of another, much bigger moment in this couple's personal history… "As we were relaxing on the couch, we both acknowledged that we wanted to spend the rest of our life with each other," reports Terence. So he popped the question!
Anitra was happy to accept his proposal. "It has been a wonderful journey," she says, reflecting on her relationship. "God has answered my prayers. Don't give up on what God has promised you in your life!"
Terence nods emphatically. "God knows just what we need and supplies it for us. Ask God to reveal the love of your life and the person whom he has for you."
1 responses to "Best Friends Since the Bookstore"
Leave a reply
You must be logged in to post a comment.