A Nervous Tour Guide, or Someone Special?
Posted by Leticia, 15 Nov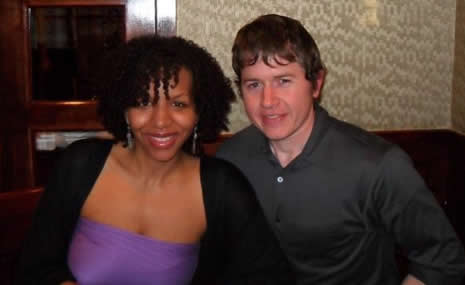 Over the years, Jerusha had tried online dating several times since she left college. There are many more women than men working in her profession, so she certainly wasn't meeting guys at work. "It became more and more difficult to meet quality individuals for dates," Jerusha admits.
In fact, when she tried our site, she wasn't even thinking seriously about romance. Jerusha had just moved to a new city where she didn't know anyone and was mostly interested in a companion to do things with. "I was looking for a friend to go with me as I explored the city," she says. "I never truly anticipated that we would get romantically involved… but I was open to the possibility."
Find your soulmate on InterracialDatingCentral










With that in mind, Jerusha wrote to Jeremy. His profile wasn't flashy or trying to be funny. "Other than using a photo, I'm pretty sure he didn't use any of the tips that dating sites give members to make their profiles stand out," Jerusha laughs. "He is a 'no-frills' kind of guy."
The last sentence of Jeremy's profile did stand out, however. "He said he didn't want for much…just some company. His profile seemed so sincere," Jerusha says. "It was quite sweet, actually!"
When they met for coffee, Jeremy was so nervous that he didn't make eye contact with Jerusha at first. "He didn't look at me at all when he spoke," she recalls. "He looked at the floor, the ceiling, out the window… everywhere but my face."
Jerusha took this to mean that Jeremy didn't like her. She wasn't even sure they would see each other again. But there was potential here, so she decided not to write him off just yet. Her patience was rewarded as, on subsequent dates, Jeremy's nervousness vanished and Jerusha realized he was more than someone to go sightseeing with.
"I have always been used to doing everything for myself," Jerusha says. "Jeremy really takes care of me. I'm blessed to have someone who wants be strong for me sometimes, so I can rest and just be completely feminine for a change."
Now the couple are considering marriage in the not-too-distant future. "We just want to iron out any issues before getting engaged," Jerusha says.
15 responses to "A Nervous Tour Guide, or Someone Special?"
Leave a reply
You must be logged in to post a comment.