A Feisty Gal Found Her Macho Man
Posted by Leticia, 03 Dec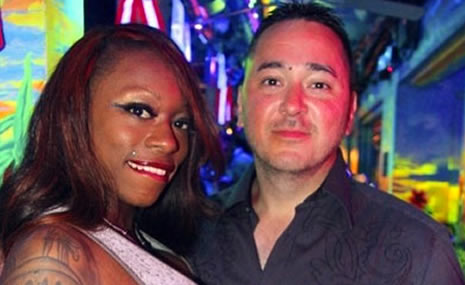 Jeff lived in New Jersey and Latoya in California. Uh oh! Would distance be a deal-breaker?
No way! These two didn't let that keep them apart. Coast-to-coast and even intercontinental love affair are actually quite common among our members. It's a welcome reminder that when the Internet brings two hearts together, two brains can figure out a way to bridge the gap. "Don't be afraid to look out of state, and be open to relocating," Jeff advises singles. "You never know where you'll find love…"
Find your soulmate on InterracialDatingCentral










Jeff found it much farther afield than he thought he'd ever look. His lady, Latoya, was "tired of the local scene" and "wanted to try something different," so she decided to give our website a shot. She knew that online dating was more efficient and made it "easier to get to know people before meeting in person."
But the right guy for Latoya sure was taking his sweet time finding her! After a few months, she was nearing the end of her subscription and planned to let it lapse. Why auto-renew? Why would the next few months be better than the first? Latoya was losing hope. Fortunately, she got lucky, just in time…
Jeff picks up the story there. "I was open to relocating, so I was looking at women in California," he says. "I saw her profile and was immediately hooked."
Jeff wanted to write to Latoya, but he really hadn't expected to spot someone so interesting. He didn't have time to write a personalized message. "Because I was on my way out, I was going to email her when I got back," says Jeff. "So I sent her a Flirt and added her to my Favorites List. I knew I wanted to write a good email to her. Well, guess what! Before I could send an email she sent me one, basically calling me out for checking out her profile and not sending her an email. She had me from that point on, to say the least."
The pair exchanged a few quick notes. It was enough to tell Jeff a lot about Latoya. Her personality challenged him in a fun way. "I could tell she was feisty, which I liked," he says.
Remember, at that point Jeff and Latoya were on the verge of quitting their quest for love, so this unexpected connection forced them to re-evaluate things. "We were both going to leave the site because we were tired of dating," Jeff explains. "I asked for her email before she closed her profile." He wasn't sure if she would give it to him… But she did! The duo began "talking nonstop" on IM and phone.
After a couple of weeks, Latoya felt that their "chemistry was so good over phone and email" that she was ready to take a big step forward…
So she invited Jeff to California to meet her. "Now, this was something she had never done, and neither have I," says Jeff. "I have never traveled cross-country to meet a woman. She took a huge chance in letting a stranger come to her place and stay with her! I will forever be grateful for her taking that chance. But there was this amazing chemistry I've never had with any woman I've ever met—and I've gone out on a lot of dates!"
The visit went very well. Latoya remembers thinking, "Finally, a true gentleman, a macho guy with a heart!" She tells us that Jeff was "exactly who I thought he would be, and even more handsome in person." In Jeff's opinion, Latoya was "even more beautiful" in real life than in her profile photos. "Pictures didn't do her justice," he declares. "It was the best four days of my life! We continued to click like we had been dating for years. It was amazing."
A big test had been passed with flying colors. Some time later, it seemed like Latoya's turn to visit Jeff. Or at least to meet up with him somewhere on the East Coast… "She planned to have her birthday in Miami," Jeff recalls. "She asked if I could make it. I said I wouldn't miss it for the world."
Their time together in Miami was magical. "Our love continued to grow," says Jeff. "It's crazy how this whole thing developed! We are truly, madly, in love. I have found my future wife, and my best friend. We are now planning to have her move to New Jersey because we really cannot live without each other. I never knew fairy tales existed till I met her."
Latoya is overjoyed to have found her fairy-tale prince. "I'm so much happier now," she says.
"Thank you for connecting two people across the country," says Jeff. "Who would have thought! We will let you know when the wedding date is set."
Thanks, Jeff! Can't wait.
7 responses to "A Feisty Gal Found Her Macho Man"
Leave a reply
You must be logged in to post a comment.