Video: 1700 Miles Meant Nothing
Posted by Leticia, 29 Sep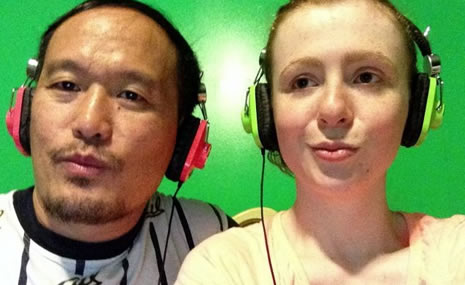 Cassie and Nick are now married, but not so long ago they were complete strangers to one another, just "Cassie92" and "LifeNJustice" on our site.
We asked Cassie why she signed up. "Just as a joke," she admits. "I didn't actually want to meet anyone. I wasn't looking, but I'd heard many success stories. This was my first experience [with online dating]." Nick tells us he posted a dating profile here "to find someone, after looking for a long time. It was just as successful as anything else... I had tried other sites before."
Find your soulmate on InterracialDatingCentral










The video below highlights their online journey that led to marriage. Enjoy...
Nick joined the site a year before Cassie did and another year went by before they found each other. "He contacted me," remembers Cassie. "Even though I was just goofing around, I read his profile and he did sound like a dream come true. And he proved it in our interactions, too."
This was definitely her kind of guy: "Asian, older, about my height, introverted, honest, kind... pretty much perfectly my type," Cassie enthuses.
Given that, Nick wishes their paths had crossed sooner. "She was pretty, interesting, and she showed an interest in Asians," he says of Cassie's profile. That was reason enough to reach out. And as they opened lines of communication, they quickly found out how much they had in common. "We talked and talked for hours, and I just couldn't hang up the phone," says Cassie. "He asked to visit and I said yes. So we met in my hometown. There's not a whole lot to do, but we had fun doing it!"
Here's how Nick remembers it. "I flew from LAX to PIT, took an hour drive into Wheeling, WV, and she showed me around town. Her photos do her no justice. She really is so much prettier in real life!"
Cassie's first thought about Nick, laying eyes on him initially, was "Wow, he's short!" She laughs out loud. "No seriously, I was really excited! I am not the most social person, so when I do like someone, it's a huge deal. Seeing him in the flesh was great."
As the evening unfolded, she was also struck by "his gentleness." That went a long way with her. "I have never met a man with so much respect for a woman," Cassie adds.
Nick couldn't believe his good fortune. He remembers thinking, "She's actually interested and excited to see me!" and reports "we got along perfectly" that night.
Their relationship steadily progressed and new insights about each other gradually came into focus. "He might not show it or even think it himself, but he is a really funny, silly person," says Cassie. Nick tells us that their similarities certainly outweigh their differences. "She is so much like me," he marvels. "I mean, who else in the world would actually want to start a ranch with me?"
Still, though, it wasn't entirely a storybook situation. There were problems to overcome. "The distance was hard, I admit," Cassie confides. "I never thought about leaving him, though. When we got married I did have to move 1,700 miles away from all my family, but love made that easier, and we all have a good relationship so I get to see them and talk to them regularly."
Nick nods in assent. "I was working on a project at the time and there was definitely the distance, too, but nothing too hard. She does have to live far from her home, though."
We're all dying to know how the engagement happened, aren't we? "Well, I proposed unofficially over the phone by the typical 'when we get married...' type of conversations," begins Nick. "She eventually wanted to know if she was going to get the formal 'down on one knee with a ring' sort of proposal, but I'm Chinese. I don't know how to do that. So she did have to tell me how. But we went to the jewelry store, she picked out the ring, and I proposed to her at my house — the old-fashioned way, where you pretty much spill out your heart and then she cries and says yes!"
How charmingly traditional! Now that all those tears of joy have dried, how is married life treating these two? "I finally have someone who understands me," says a grateful Cassie. "Life doesn't seem dull or without meaning. It's been great!"
Nick also feels as though love has changed his life for the better. His emotions are wholly positive. "I am more happy and not floating through my life any more. I now have a best friend."
"Don't quit trying," Nick urges singles. "Talk to anyone you may have even the slightest interest in."
Cassie is eager to proffer some advice to everyone hunting for a love like hers. "I say it really is true: You will find love where and when you least expect it," she says. "Try to have fun and meet new people. Even if you think you won't like a person, don't just assume that before getting to know them a little more, via chatting. You might meet your very best friend."
And that friend might become your spouse.
38 responses to "Video: 1700 Miles Meant Nothing "
Leave a reply
You must be logged in to post a comment.