Success Story: Two Days, One Date and a Wedding
Posted by Leticia, 17 Oct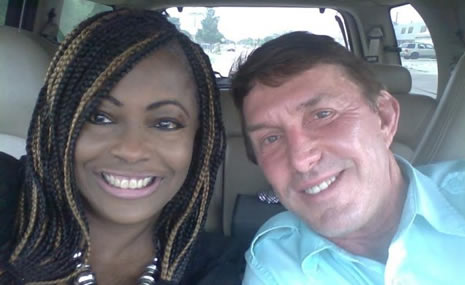 Deborah went online to research different dating sites. She suddenly decided that ours was the one to try. Even so, she wasn't at all confident that anything would happen.
Dennis signed up because he was looking for companionship, not a hook-up. He was willing to take a chance on finding someone who could be his true partner in life.
Find your soulmate on InterracialDatingCentral










Deborah had been a member for a grand total of four days when she came across the profile of someone called "Smoli." Smitten by "his pretty face," as she calls it, she sent the guy a Flirt.
Smoli was Dennis, of course. He'd been on the site for two whole weeks when he received the Flirt from "SBFTX," Deborah's rather unusual handle. He was very pleased. "I thought she was beautiful, and fell in love instantly," Dennis recounts today.
Once they got on the phone, the duo discovered that there was another reason for their attraction. They loved to hear the other speak! Says Deborah, "He has a clear, beautiful voice, and a direct way of speaking." Dennis says it was "her proper use of the English language" — which is very important to him — that was most impressive. "Her clear voice was so easy to understand," he tells us.
While Deborah and Dennis hadn't known each other long, they'd already zoomed right past a roadblock that so many couples experience — communication.
They also couldn't wait to meet face-to-face. Their first official meeting was at the Fargo, North Dakota airport. Deborah discovered that Dennis not only looked exactly like his online picture, but also that "he was very handsome!" Dennis again marveled at how beautiful she was, saying, "I loved her full lips and big eyes."
Their first date was a trip to his church. "Everyone at the church treated her well," remembers Dennis. How sure was he that they would go out again? Pretty sure, as it turned out. "We were married two days after our first meeting and the day after our first date!"
Well, it didn't really happen that fast. Dennis had proposed before they even met in person. Both singles felt that the connection was that strong. The only obstacle was distance. "Being separated was very stressful," Deborah acknowledges. "I lived in El Paso, Texas. Dennis had retired as a commercial farmer and lived in Fargo."
But that's all behind them now, because the couple quickly figured out how to make it work. Finding love has changed Deborah's life in all manner of ways, she says. "He is the most loving, kind and generous person I have ever met, and my world is now complete...we are enjoying the life of a retired couple."
Love has taught Dennis how to enjoy life to the fullest. "She is a very faithful and spiritual person. And she makes my world rock!" He shakes his head in happy amazement. "Now I'm learning how to dance!"
Deborah has a piece of advice for all the online daters looking for love. "Don't look for material riches," she says. "Look for a man who is honest, hardworking and kind."
Dennis echoes her sentiment. "Don't look for money. Look for love."
34 responses to "Success Story: Two Days, One Date and a Wedding"
Leave a reply
You must be logged in to post a comment.