She Might Marry This "Love Coach"
Posted by Leticia, 27 Oct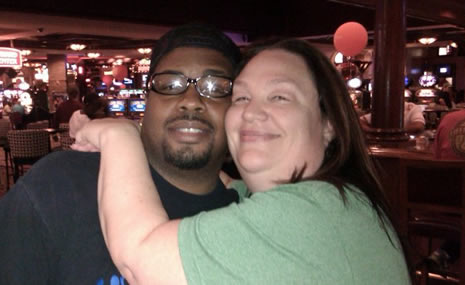 Learnell was busy coaching athletics, and Kathy had a rigorous work schedule. These two singles wanted to find love, but who had time? This conundrum led them to our site, where they posted profiles. She was "MzThiik" and his handle was "PhillyBorn74."
Both were new to online personals, and both felt trepidation about the process. Kathy says she was "not very" confident and Learnell adds that "I didn't think it would work."
Find your soulmate on InterracialDatingCentral










Six months after signing up, Kathy looked at Learnell's profile. Seeing that, he emailed her. Initially the attraction here boiled down to "interests" and "looks."
"We talked on the phone every day for months," remembers Kathy. After that, Learnell felt ready to take the next step and meet in person. She flew to Philly and they connected immediately.
"It was like we'd known each other forever," says Kathy. Learnell nods. "I felt good, very comfortable [in her presence]." It surprised him how "easy going" the often-fraught first date went for them.
They happily went out again and learned more about each other (all good things). "He loves kids!" exclaims Kathy. "She is very outgoing and funny," notes Learnell.
Despite this, both singles say that their match was "different from what I usually date." Still, their bond became so strong, so fast that the next question involved "figuring out what state to live in." Is a proposal far off? "We haven't had that yet, just talking about it," notes Kathy.
Both halves of this happy couple have advice for our readers. "Keep trying, and you have to feel comfortable about the person," suggests Kathy. "You should be able to do that before meeting them in person."
Here's Learnell's advice. "Make sure the other person is really trying to find love, and not just there to make friends." He says "connections" should be the goal.
For Kathy and Learnell… Goal achieved!
Responses to "She Might Marry This "Love Coach""
Be the first to leave a comment
You must be logged in to post a comment.