Rain Couldn't Ruin This Proposal
Posted by Leticia, 26 Jul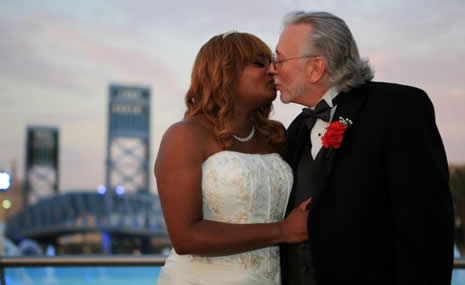 "I have had a hard life," says James. "Losing three wives while collecting three children along the way. I had been working on my skills as a single dad, but I knew I wanted to find a woman to share the rest of my life with. God brought Meika to me…"
Meika, aka "Chewsy1," lived up to her screen name because she chose to contact James! No "newbie" to Internet personals, Meika was proactive rather than waiting for fellows to approach her on our site. The member with the username "JimPlus3inVA" stood out to her for some reason. "He seemed genuine and intelligent," she says of James.
Find your soulmate on InterracialDatingCentral










What drew Meika to date online was a jam-packed itinerary. "I didn't have time to go the traditional route," she explains. Meika was "fairly confident" she'd stumble across the right profile eventually. While she didn't know it at the time, Jim was just the guy she'd signed up to meet…
Jim was a believer in the power of personals on the Internet. "I knew this was my best chance to meet the right woman," he tells us. Jim had only been a member for a few days when he received Meika's Flirt. They quickly exchanged email addresses. Recalls Jim, "She seemed like a dream come true — beautiful, intelligent, with a good career."
As they got to know each other nothing set off any incompatibility alerts, so the date-scheduling process began. "He lived 600 miles away but had a trip planned that could put him in the area," says Meika. Jim elaborates, "I had a trip planned to take my children to Mississippi and leave them for a week. Going to Florida was as good as any other plan for that week!"
He was sure glad he made the drive. Jim's first thought on seeing Meika in person was, "Wow! She is so beautiful. I am so blessed." Meika was delighted to see that her date was a dead ringer for the person in his profile photo. Whew! But that's not all. Jim adds, "She let me kiss her and everything was perfect." Meika agrees. "He was a good kisser," she adds. A picturesque fountain made the ideal backdrop for their smooch.
After that, both were "very sure" there'd be a "Meika & Jim Go Out: Part 2." She was surprised at some things about him she hadn't been aware of. "He was quite witty and had a good sense of humor, with a hint of sarcasm. He is compassionate and loves without any constraints."
Jim was blown away by how cool Meika was. Her strengths cover up his weaknesses. "She is my perfect complement," he says. "To borrow a line from a movie, she completes me! She fills in the areas where I am sometimes lacking."
Surprisingly, Meika wouldn't have described Jim if asked what she wanted at the very beginning of her search. "He's nothing like the type I thought I needed," she admits now, but adds "that is a good thing!" Jim considers Meika a perfect partner for him. "I needed a woman who would accept me and my family and be a good wife, great friend and good mother to my children."
Having found that woman, James saw no reason to postpone the inevitable any longer. "We had talked about getting married for some time, but I did not want to propose to Meika until I had a ring," he says. "I also needed to be in the same town to do it! In June of 2012, I sent my children down to Florida to live with her while I sold my home in Virginia. In July, I came down to join everyone. I took her to dinner at a fine restaurant near where we had our first date and our first kiss. Since it was raining, my proposal ended up being in the restaurant rather than near the fountain where we shared our first kiss. She loved the ring. So did all of her friends!"
Meika is thrilled to have found her other half. "I have a warm sense of security and fulfillment," she beams. "I was beginning to believe I would never be married! Now I am married to a good man and have a loving family. Everything seemed to fall into place as if God made it all come together!"
To readers who would like to tell their own version of this story someday, Meika advises you to "be patient and believe!" James also has something to say to those in search of a lasting partnership. "Above all, be honest about what you want, who you are and your relationship status. Think with your heart and head, not with your animal desires. Ask for God's wisdom and be willing to accept His plan. Be patient about the process, and with any potential date."
Patience paid off for James and Meika. There's no reason to think it won't be the same for you!
78 responses to "Rain Couldn't Ruin This Proposal"
Leave a reply
You must be logged in to post a comment.