"I Didn't Want Him to Get Away"
Posted by Leticia, 12 Jul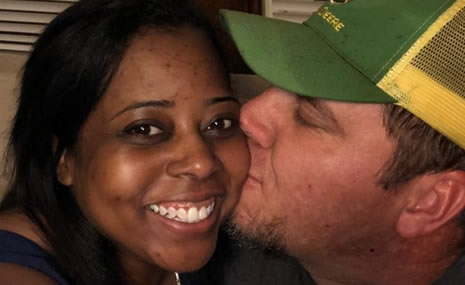 When users "Kekio" and "Pipeliner469" met on our site, that was a low-key awesome day in their lives. "I just wanted to try something different," explains Nicole (Kekio). "Traditional dating was not working." Joshua (Pipeliner469) adds, "I work so much, and online dating seemed to be a good choice. This was my first time using a site like this."
As newbies, they were "not very confident" that a dating site could change everything for them -- at least not just like that. But that's exactly what happened. After what was a few days for Nicole and just a FEW HOURS for Joshua, these two lucky singles hit the online personals jackpot. "The money was worth every penny," says Joshua of his decision to become a paying member.
Find your soulmate on InterracialDatingCentral










It all started when Joshua saw Nicole's profile. Given "how adorable she was," he felt compelled to reach out to her. Perusing his message, and his profile, Nicole was blown away. "I felt like I had read something the man of my dreams wrote," she recalls, shaking her head in wonder.
Communicating further sure didn't spoil the magic they felt building -- as they chatted, they quickly decided to take the next step and leave the Internet behind for a real-world meeting. "I felt so comfortable with our conversation," notes Nicole. "After talking on the phone I wasn't worried about a thing. He showed me that he was a man of God. I didn't want him to get away!"
Joshua expresses the same sentiment. "She's the woman of my dreams; I wasn't going to let her slip away," he laughs. So they made it happen! As Nicole remembers it, "He drove six hours to where I live. We had pizza and walked down by the riverfront, talking and getting to know each other."
The first impression was good, she adds. "He was more handsome than in the pictures, and he really is tall! I'm 5'0 and he's 6'5!" For Joshua, there were no surprises. "She was everything I thought she was, and more," he marvels. "Her beautiful smile is more than I could have imagined." During their date, Nicole admired the way Joshua carried himself, and she appreciated his respectful treatment of her. "He is beyond the perfect gentleman," she gushes. "Chivalry is not dead!"
It's worth noting that neither person considered the other their "type," per se. Nicole tells us she'd given up on the very concept of having a type, and Joshua calls her "the total opposite" of what had been his type up to then. He's not sure exactly when he realized this relationship could be special, but Nicole does. "From the moment I met him! I just let my guard down and let this man love me. It was fate."
Today, they're engaged. "He just told me that he was going to make me his wife," giggles Nicole. And she has no doubts about walking down the aisle with him, exclaiming, "I'm happier than ever!"
In parting, Nicole tells singles to "follow your heart." It may take more than a few hours, that's for sure, but your heart will lead you where you need to go.
4 responses to ""I Didn't Want Him to Get Away""
Leave a reply
You must be logged in to post a comment.