He's Not Bored Anymore...
Posted by Leticia, 23 Apr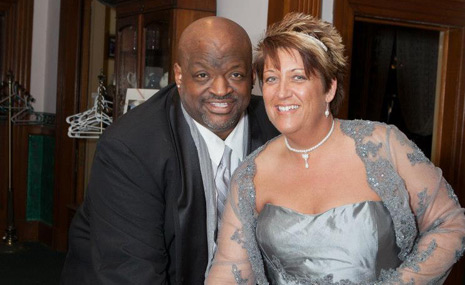 "I feel so very content and happy!"
That's what Samantha says now. But how did she meet and marry Machon?
Find your soulmate on InterracialDatingCentral










Like countless other interracial singles, they met on our site, of course! So let's start with the juicy details of the marriage proposal. Machon had been seeing Samantha for some time when he had an epiphany. Sitting by himself at a restaurant, beginning his day with a good breakfast, Machon noticed couples dining nearby. Their happy comfort in sharing a meal had a surprising effect on him. Pondering his own relationship, Machon was moved and made a significant decision on the spot.
Samantha heard about this soon thereafter. "I drove to his state for the first time after he'd been to my home several times," she begins. "He took me out to breakfast and while we were sitting there, he told me a story of the week before. He came to this same restaurant and ate breakfast, alone. He said he sat there looking around at all the couples and it hit him — how much I meant to him, and how he didn't want to chance not having me in his life. He took the ring out of his pocket and asked me to be his wife! We were sitting at the very table that he was, a week ago, when he realized he was going to propose."
None of this would have transpired had Samantha and Machon not made the decision to date online. Or if Machon had just poured himself a bowl of breakfast cereal. Just kidding — we're sure he was going to pop the question, sooner or later.
Explaining her choice to purchase a subscription on our site, Samantha says "I just thought I would try something different than the usual methods." Machon says nothing prompted him to sign up; it was an impulsive decision. "There was no inspiration [behind it]. I filled out a profile more out of boredom than anything!"
Going in, neither single felt all that fired up about it. "I was hopeful, but not convinced that anything would come from it," confesses Samantha. Despite his initially casual attitude toward the profile-writing process, Machon wasn't here to kill time. "I was looking for the right one, but I went into it without any expectations," he clarifies.
They joined the site around the same time and one month later, "Bewitched68" reached out to "Omacj72." That's right — Samantha didn't wait for Prince Charming to ride up on a white horse! "I Flirted with him and sent an email saying 'hello,'" she remembers. "I knew by how he spoke and reacted to different things that there was a strong chance we could turn this online relationship into something more."
Machon was impressed by Samantha's profile and her initial communications with him. "The first thing I noticed was her ability to spell and use correct grammar," he laughs. "Her overall intelligence and appearance [stood out]."
As they traded messages and learned more about each other, their intention to test the waters became overriding. Says Samantha, "I clicked with him on so many levels that I knew I HAD to meet him. It was a do-or-die kind of thing!"
Machon was equally driven to explore this. "I just knew that I had to meet her," he says. "I felt like I had fallen for her over the phone and, in my mind, that was ridiculous! So I felt I had to redeem my feelings by meeting her."
While he was surprised and a little embarrassed by the strength of his feelings for Samantha, Machon went into Date No. 1 with a clear head. Right away, he liked what he saw. "I was taken by how tall she was, and she looked just like her pics on the website," he recalls.
Samantha thought Machon seemed reserved at first. "He was more shy than I thought he would be," she tells us. "Thankfully he warmed up quickly! The first meeting was a bit rushed due to our work schedules, but I did know that I wanted to see him again."
Machon was equally pleased with the way it went. "There really were no surprises; she was exactly what I expected. I was sure we would meet again!"
And meet again they did. Before long they weren't just dating, they were romantically involved. "He is much more romantic, attentive and appreciative than I ever could have imagined," Samantha says of her beau. "He's exactly what I was looking for, and needed!"
Machon echoes that sentiment. "She is exactly what my heart needed," he says. "Her loyalty to me is more than I could ever ask. I feel very happy, stable and focused."
As a single successfully turned into a bride, Samantha has some wisdom to impart. "Don't give up if the first one, or 10, are not 'The One.' This is a process that takes time and patience. You have to get to know one another first."
Machon tells daters to "just be honest about who you are and what you are looking for." And don't forget to start your day with a good breakfast!
164 responses to "He's Not Bored Anymore..."
Leave a reply
You must be logged in to post a comment.