He Never Feels Alone
Posted by Leticia, 23 Jun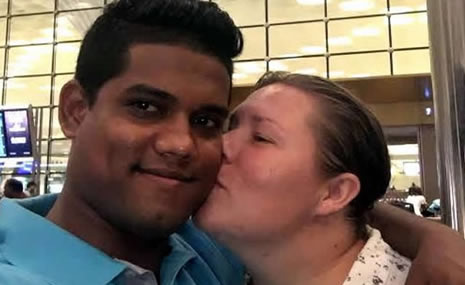 Satish lived in Mumbai, India and was eager to try interracial dating. That's why he joined our site. To get a feel for how things work here, he chose the free membership. True love eluded him at first but, instead of quitting after 14 unsuccessful months, Satish doubled down on Internet dating – he purchased a subscription. "I don't give up on things easily," he tells us.
That's when he found Shirai's profile… And everything changed. "I knew she was simple and sweet when I saw her profile," Satish remembers fondly. "Her smile and honesty impressed me!"
Find your soulmate on InterracialDatingCentral










He sent Sherai a Flirt, to start. "Once she replied to me, from there we started Skyping and planned to meet up here," Satish informs us. "When she visited India — the very moment I saw her at the airport — my heart said 'this is what I want for the rest of my life.'"
Soon thereafter Satish proposed, Sherai accepted and they got married. "We both knew that we'd be a great couple," he says to explain their quick courtship. The distance between them remains an obstacle, however, even after tying the knot. "She lives in Washington and I live in Mumbai," Satish laments. "That's the only obstacle we have in our relationship; otherwise we are perfect for each other!"
Satish finds new things to love about Sherai every day. What stands out when asked are "her honesty, and the support she gives me in every situation we have been in till now. Even when she is away from me, she still makes sure that I don't feel alone."
Despite the challenges they face as a couple, Satish is thrilled to have made this commitment to Sherai. "I have never been so happy in my life," he declares. "I can't describe in words the happiness I get from my wife!"
His advice to our readers is simple. "Never give up! There is someone for everyone."
Satish is living proof.
1 responses to "He Never Feels Alone"
Leave a reply
You must be logged in to post a comment.