He Came Bearing Gifts
Posted by Leticia, 02 May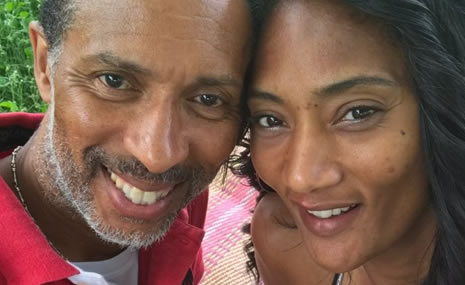 While Brenda and Holford haven't known each other all that long, their romance is off to a great start! These two met on our site and based on the success of their first date, it's a good bet they'll have another…
Brenda posted a profile with the username "Bebe-214." She did it purely "out of boredom," she says, not any burning desire to find love. In Holford's case, however, he really did want to meet a long-term partner. "I couldn't seem to meet anyone the conventional way," he admits. "Everyone seemed more comfortable online than in person." Neither single says they were confident that anything dramatic would happen in their love lives.
Find your soulmate on InterracialDatingCentral










Roughly six months later, Brenda heard from Holford, aka "4EvernLuv" on the site. He'd been with us "on and off" but didn't notice "Bebe-214" right away. What caught his eye? "A photo of a neck tattoo and her precise words sparked my interest," reports Holford. "I sent Brenda a Flirt and a message at the same time."
Receiving this, Brenda examined Holford's profile and was moved by it. "It was more his eyes – they seemed kind – and his words" that sparked her interest, she says. From there the conversation came naturally and was compelling. "We spoke on live video every day for hours," Holford tells us.
Eventually "she was comfortable with meeting in person," Holford says. Hearing a friend's bad-date story actually motivated Brenda to meet Holford, she suggests. He was ready too, so Brenda invited him over. "He surprised me with all my favorite foods and drinks," she laughs. "That showed he was really paying attention when having conversations with me." It was an impressive gesture.
Here's how Holford remembers that evening. "I brought her sushi, chocolate strawberries, and wine. We ate, drank and listened to music." Going from email-swapping and video chat to direct interaction was a little surprising, at least on a surface level. "I thought he was slimmer in person," Brenda observes. "His eyes were very animated, and I instantly knew he was into me."
That he was! "I thought she was taller than her photos," Holford says. "She looked like a fashion model! Great smile, beautiful naturally long hair… Just radiant!" Initially, Brenda's personality was a bit more subdued than he expected. "She seemed shy in person, more than on the phone," Holford comments. "But she made me feel extremely comfortable in her home."
After this promising experience, both parties felt certain they should meet again. We hope it works out!
2 responses to "He Came Bearing Gifts"
Leave a reply
You must be logged in to post a comment.