Distance couldn't keep them apart
Posted by Leticia, 15 Jun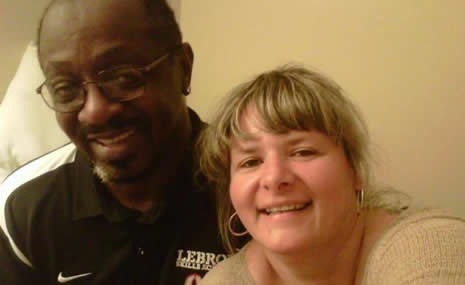 Toni wasn't happy being single, but she didn't much care for the bar scene, either.  If she wasn't at work, she was probably at home.  And yet she kept wondering about what kind of men might be out there, waiting for someone like her, out in the world of online dating.
Meanwhile, William lived in a small town with a small pool of single women to interact with.  On a lark, he decided to post a profile.
Find your soulmate on InterracialDatingCentral










It was awhile before their paths crossed online.  Both experienced what Toni calls "a never-ending job interview" with different people, a process of questions and answers that never produced a perfect match.  Seeing Toni's profile, William reached out to her.  Toni felt a connection in their first phone call, but she knew that she was only one of several women William was communicating with at that point.  By their third call, Toni thought that she had made a new friend and that was probably it.  But despite the 18-hour drive between them, William would not be deterred.
"He said he needed to meet and confirm what he already knew," Toni says now.  "So he drove nine hours north and I drove 9 hours south.  We met in Williamsburg, VA."
In person, Toni had the feeling that she and William had been friends for years.  He was open and honest, he made her laugh, and he was exactly who he'd portrayed himself to be online.  "The best part of meeting someone online is that you take the physical part out of the equation right away," observes Toni.  "This forces you to really get to know the mindset of the other person.  So by the time you get to see 'the object of your affection' in person, you're just sent over the top.  It brings it all together, in the right order."
Toni has joined William in Georgia and they are now engaged to be married.
18 responses to "Distance couldn't keep them apart"
Leave a reply
You must be logged in to post a comment.