An instant Bond
Posted by Leticia, 20 Jul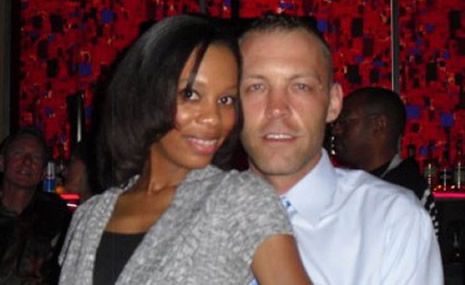 Two days after Shawn bought a subscription to our site, he was browsing profiles when he found a member whose screen name was "Brejabre."  Her profile intrigued him.
"She was very thorough in her presentation: where she has been, what she has achieved, where she plans to go with her life," Shawn says of Brejabre.  And what she was looking for in a partner sounded awfully familiar.  "She [and I] had listed a lot of the same attributes," he chuckles.
Find your soulmate on InterracialDatingCentral










Breona, aka Brejabre, began her membership only a couple of months earlier, but in the past she had tried several other sites without much luck.  "I was a few weeks away from my subscription ending and I was going to accept the fact that this wasn't for me," she concedes.  Fortunately, she stuck with it just long enough to catch Shawn's eye.
When she received Shawn's Flirt, Breona naturally went to his profile right away.  She looked at all of his pictures and read his entire profile.  "I was blown away by how detailed it was," she says.  "I was very into him after that."
Chatting on our site via instant messaging solidified these singles' positive first impressions of each other.  It turns out they had many similar life experiences under their belts and knew where the other was coming from.  "It makes it much more intimate to know that I can share so much with him," Breona says.
Over the course of the next week, Breona and Shawn spoke several times.  Breona liked that Shawn was open and his answers direct.  He too was impressed with their immediate rapport.  "She's able to answer a lot of my questions before I even ask them," Shawn notes.  "That's a testament to the bond we share.  But she is sincere and honest in all aspects of her life."
When they met in person for Date No. 1, Breona was pleased with what she saw.  "He was really handsome, physically fit and talkative," she says.  "His aura was very noticeable to me—so positive and upbeat."  Shawn found Breona "very beautiful" and immediately noticed that her smile can light up a room.  "She also carries herself with unwavering confidence, a major plus," he adds.
They had dinner at a Mexican restaurant, both ordering the same meal.  Afterwards, they went to a musical show and didn't call it a night until about 2 a.m.  "We have been able to talk for hours and just never want to end a conversation," says Breona.
As they saw each other again—regularly—the couple's feelings deepened.  It certainly didn't hurt that they shared the same core values and focus on family.  "I am family oriented and so is he," Breona says.  "He is older than the men I have been with… More mature and stable in his life."
It's important to note that Shawn and Breona do recognize each other's flaws.  But they accept each other just as they are, and in fact embrace their differences.  "Our aspirations and flaws are complemented by each other," he says.
Today, the couple is making plans for their future together.  "Marriage is a topic between us for the near future," Shawn says.  "I can't imagine a day without her." Breona is on the same page.  "We talk every day and never miss a chance to say how we feel about each other," Breona says.
Is Shawn glad he bought that subscription to our site?  "Best decision I ever made," he laughs.
Breona hopes that other singles will follow in their footsteps.  "I am a firm believer that this site helped us find each other," she says.  "There's someone out there for everyone, and the site gives you a much greater chance of meeting than hoping and waiting for that day to come!"
23 responses to "An instant Bond"
Leave a reply
You must be logged in to post a comment.