You Don't Have to Be Einstein to Understand This Connection
Posted by Leticia, 30 Aug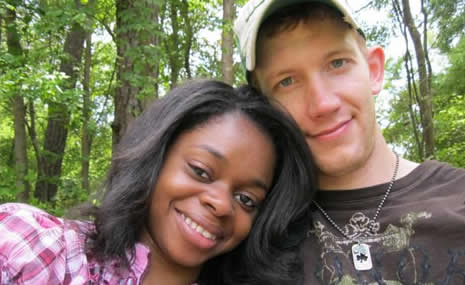 "Online dating does work, and I'm living proof of that," says Nandi, who used our site to meet a man she's mad for. "For some people, it doesn't take long to find that certain someone. For others, it takes quite awhile. The main thing is, don't ever give up. The longer it takes, the more rewarding it'll be when you find that special person."
Dustin, Nandi's new beau, advises singles to "keep your head up and keep looking. Just because you don't find someone right away doesn't mean you won't! Your perfect person is out there."
Find your soulmate on InterracialDatingCentral










Nandi joined our site with the sense that this could be big for her. She explains... "I was more confident than most because some of my family members have found their loved ones on dating sites."
A newcomer to the online personals scene, Nandi was excited by the possibilities as she explored our site. "It was my first experience! I thought it would be fun. Plus, it's easier to narrow down what you're looking for."
Dustin, however, was wrestling with significant doubts about dating online. "I was not confident," he admits. "I was losing hope. I wanted to try online dating because there were no good women in my area I would want to date. I figured online dating was my best option."
Unfortunately, Dustin's initial forays into the online dating pool were unsuccessful. "I had used several sites before, with no luck." Still, something convinced him to roll the dice on us. "I was giving online sites one last try before cutting my losses," he says of his decision to sign up.
Nandi and Dustin joined at about the same time. It was only a couple of weeks before their paths crossed. Nandi wrote in her profile that she was interested in quantum astronomy and quantum physics. So "Dustin86" sent "Seaflower912" (Nandi) an email complimenting her on her intelligence. He didn't expect to receive anything in return. But Nandi wrote back. "We began talking every day," she says.
Sometimes people seem great on the surface, but the more you get to know them, the more you know there's no match to be made. In Dustin's case, Nandi passed each successive test with flying colors. "My first impression of her when I saw her profile was 'Wow! She's smart, and pretty!' That impression solidified and I knew I was hooked. This girl was everything I was looking for: intelligent, sweet, charming, beautiful. The whole package."
After close to two months of emailing and calling one another every day, Dustin and Nandi were ready to road test this relationship in the making. "I thought I knew as much about her as I possibly could without meeting in person," says Dustin. So he decided to take this courtship to the next level.
For their first date, they went bowling and had dinner afterwards. Nandi shares her impressions. "My first thought was how tall he was, which I loved, and how handsome and well dressed. He was a gentleman. He was also very independent and mature for his age."
Dustin was intoxicated by Nandi's feminine grace. "My first thought was how pretty she was, and how much I liked her hair," he says. "But I was surprised she was so quiet, when we had talked about so much on the phone and over email."
Nandi may have been a bit shy in their first meeting, but Dustin's gregarious personality filled the silences. "I was surprised at how outspoken and lively he was, although I shouldn't have been because he'd seemed that way over the phone."
As the end of the date drew near, neither party wanted to walk away. "We both had a wonderful evening and wanted to see each other again," says Nandi. "The fact that I didn't want to part ways after our first date was a reassurance for me." Dustin was thoroughly convinced, as well. "I knew I wanted to go out again!"
Their relationship progressed steadily from there. Nandi came to find that the guy in her life was even more impressive than advertised. "Many things didn't come across in his profile that I know now and really appreciate. He's extremely caring and protective. He's also very driven, which is good motivation for me!"
Dustin didn't corner the market on ambition, though. "I really like how passionate Nandi is," he says. "In everything she does, she tries to accomplish it to the best of her ability. Whether it's writing a new song, or cooking a meal…."
We usually ask couples if their partner is exactly the person they always hoped to find, or a surprise match. Of Dustin, Nandi says "his personality was different than my 'type,' but better than what I'd hoped for. But we are very similar when it comes to intelligence, creativity, and physical activity."
Dustin didn't have a type in the traditional sense, but he did set priorities before embarking on his search for love. "I had actually written up a list of all the attributes I was looking for in a partner. Nandi has every attribute!"
Nandi is still blissed out by her good fortune. "I never really thought having someone in my life could make me want to experience more, or even make me happier. But I'm happier now than ever, and it's a great feeling."
Dustin and Nandi are helping each other to grow and mature. Their mutual and individual goals seem much more attainable with a supportive partner in their corner. Dustin is well aware of the impact his sweetheart has made on his life. "Since I met Nandi, I am a lot happier and more motivated to push myself. I want to succeed and accomplish a lot, not only for myself but to make her proud."
For singles seeking the advice of someone who made our site work for them, Nandi has this to say. "You have to know exactly what you want when you begin. You can't accept every Flirt or message you get from people, because it's a waste of your time and theirs if you know they're not what you're looking for. Use that time searching for the one you want!"
Dustin has also thought about suggestions to share with our membership. "There are a lot of people who you may think you could like but, without definite guidelines, you can get lost in all the profiles. Don't settle for someone you will not be truly happy with."
426 responses to "You Don't Have to Be Einstein to Understand This Connection"
Leave a reply
You must be logged in to post a comment.