Their hungry hearts were serious about love
Posted by Leticia, 24 Sep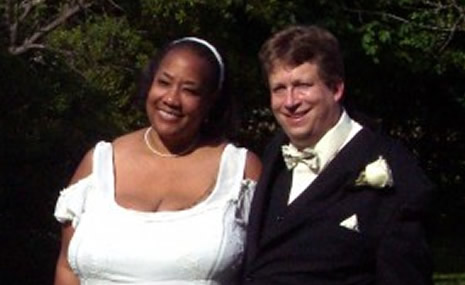 Like many singles, Jeff and Roxanne turned to the Internet to help them find the love they longed for. Roxanne had actually tried personal ads in the newspaper, the now-primitive forerunner to online dating. "I thought the Internet was the natural progression," she says. "I liked being able to see pictures and chat."
It's no surprise then that Roxanne joined our site without hesitation. "I was very confident because I'd met a few nice guys on other sites," she says. Her positive attitude was rewarded when Jeff came along.
Find your soulmate on InterracialDatingCentral










Maybe that's why Roxanne's online handle caught his eye: Hungry_Heart. If we were matching people up based on screen names, these two would be a natural fit!
After a quick review of her profile, Jeff found that Roxanne's member ID wasn't the only thing that appealed to him. This was definitely the sort of woman he'd been waiting for. "She was very lovely, professional, and had no kids," he says.
Jeff sent a Flirt. Roxanne was eager to talk to him and was surprised at how eloquent his messages were. "A lot of guys barely write anything," she notes. "Jeff was unique. He wrote interesting, lengthy messages and was charming in chat."
Jeff's extra effort put him a cut above the competition. Roxanne was hooked, and it wasn't long before their first date was in the books.
"I drove for 18 hours to get there," Jeff says. They met at the charming Pineapple Fountain in Charleston's Waterfront Park. Both were happy to see their profile pictures didn't lie. "He looked like his pictures; kind of cute, and sweet," Roxanne says.
Jeff was also pleased that the person he met was the person he expected. "She was like her pictures," he says. But Jeff found that Roxanne's authenticity went far beyond posting recent, well-lit photos. It was the way she carried herself. "She was really REAL," he says.
After chatting in the park for some time, the pair relocated to a more intimate setting for dinner. That went well, and soon Jeff and Roxanne were officially an item.
"She's funny, intelligent, not temperamental, and awfully sexy," Jeff says of Roxanne. But he isn't done extolling her virtues, adding that she's sweet, mature and organized. The cherry on top? She's a good cook!
As their relationship progressed, Jeff's attractive qualities weren't lost on Roxanne, either. "He's smart, sweet, sexy and funny," she says. The couple's conversational styles are very compatible. Roxanne adds, "We can talk on and on about anything and everything!"
With all that chemistry, it should come as no surprise that Jeff and Roxanne are now man and wife. Their goals are simple but clear. "Work on our marriage, build a happy life together," top the list for Roxanne. "Explore our dreams and passions," Jeff puts in.
Sounds like a recipe for success.
105 responses to "Their hungry hearts were serious about love"
Leave a reply
You must be logged in to post a comment.