Overall Cuteness
Posted by Leticia, 24 Nov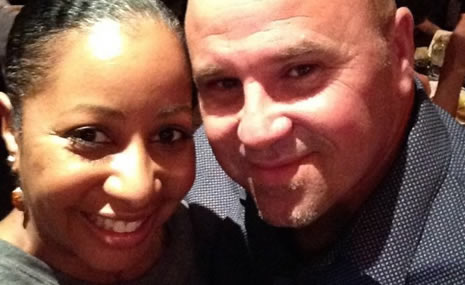 For many people, including Leveca, online dating offers a more efficient way to meet people. "Not a lot of time to date," is how she describes her packed schedule. Jim nods. "It's convenient!" he says of the Internet personals process. He adds that he was hopeful Ms. Right was already a member of our site.
But she wasn't. In fact, it took two more years to find her! Everyone involved is glad that Jim stuck with it. The woman he was waiting for, Leveca, found his profile just a month after she posted her own. And to think that, at the start, she was "not very" confident that Internet personals would produce results!
Find your soulmate on InterracialDatingCentral










"Luv315" and "Jimboni" (their online handles) met because Leveca took the proactive step to contact Jim. "She sent me a message through the site," he recalls of this happy surprise. But what drew her to him in the first place? "His smile, him talking about being a father," Leveca explains. Jim says he responded due to "her overall cuteness." But her personality was in place, too. "She seemed sweet!" exclaims the gentleman.
The next step was obvious. "We talked a lot for a couple of weeks, felt comfortable [meeting in person]," remembers Leveca. She was ready, and so was Jim. "We had so much in common, and we had talked for a while," he tells us.
When the day came, Leveca liked what she saw. She remembers thinking Jim was "Big and handsome!" His reaction to her was equally unambiguous. "Totally hot," he thought to himself.
What surprised Leveca, she says, was "how comfortable and safe I felt." Jim couldn't believe "how easy she was to talk to." They had an instant, indelible rapport that made everything easy. Both singles say they were "100%" sure that this wouldn't be the only date they went on.
As time went on, "his parenting" and "her personality" convinced each other that this connection was far more than skin deep. "I look forward to talking to him EVERYDAY," says Leveca of her plans. "Sharing my life with her" is what Jim has in mind, too.
For now there's no indication that they won't! Leveca wants to be the voice of experience for singles on our site. "Get to know the person you're talking to," she says of Internet communication. "Be honest."
"Be patient, don't rush," Jim tells the male contingent in our audience. "Wait for your princess!"
In this case, his princess found him.
16 responses to "Overall Cuteness"
Leave a reply
You must be logged in to post a comment.