Become the CEO of your Love Life with Evan Marc Katz
Posted by Evan, 06 Sep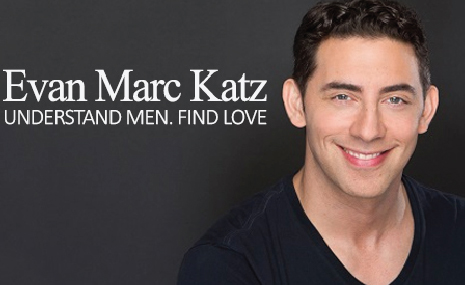 Dating Coaching with Evan
Find your soulmate on InterracialDatingCentral










Anyone can go to the gym. Those who want the best results work with a personal trainer.
I am a personal trainer for people who want to fall in love.
My mission is to give intelligent, successful, motivated people like you the tools to create, attract and keep the relationship that you desire.
No matter how bright you are, no matter how old you are, no matter how much you know yourself, you still have blind spots. We all do.
Dating coaching is about shining the light on those blind spots. It's about understanding the opposite sex and developing a greater sense of self-awareness. It's about figuring out what's holding you back, and moving you forward without obstacles.
And who better to explain men than another man?
Plus, who knows more about dating than a man who dated prolifically for 15 years, wrote four books about it?
Exactly.
Keep reading to learn about what it's like to work with me as your dating coach.
(Hint: it's fun, exciting, and life-changing, but don't let me bias you in any way.)
Who are your typical clients?
Smart. Successful. Good catches. Frustrated at dating. Confused about the opposite sex. Serious about finding a long-term relationship. Lots of love to give but no one to give it to. Wondering if there's something you can do differently.
Do you work with men? Or do you exclusively coach women?
I used to coach men. Then I realized that while men need lots of help, they generally don't ask for it. So, since 2010, I've worked exclusively with smart women who want to understand men and find love.
50% of my clients are 35-50.

25% are under 35

25% are above 50.
Which means that yes, I've helped women just like you before.
So let's say I want to work with you. How long should we continue to talk?
As much as I'd like to wave my magic wand and hand you a life partner, coaching is a process. My comprehensive coaching program, Love U, is six months. You will see results within the first month.
Really? It works that fast?
It works that fast. Sometimes the difference between despair and success is just one piece of information, one shift in perspective that alters your entire life.
But what if I just want one session?
Sorry. Attracting and keeping a healthy partner doesn't happen in one 50-minute phone session. You and I will be starting a new love life from scratch, not trying to save your broken relationship with a toxic commitmentphobe. If you're dating a man who treats you poorly, I have an easy solution: dump him. Seriously. Dating coaching is about changing the way you choose men, not about changing men themselves.
It all sounds great. Kind of scary, but exciting! Just one more question: what do you mean by "starting a new love life from scratch"? Give me a little taste here…
Fair enough. Where we start depends entirely on your circumstances.
If you don't meet enough people in real life, I'll help you attract the highest quality people online and show you how to successfully flirt in "real life".

If you never find anybody you meet to be desirable, I'll illustrate how you can create more opportunities to connect wherever you go.

If you don't get second dates with the men you like the most, I'll coach you on understanding how you come across to the opposite sex.

If you're trying to figure out how to get a guy, I'll show you how it's not actually about making the guy like you…but about being the woman that no man can resist.

If you're consistently attracted to emotionally unavailable partners, I'll introduce a new decision-making process designed to empower you and break your old patterns.
In other words, you may be a unique person but your situation is not unique. In fact, whatever you're going through has been experienced by millions before you. By taking control of your own destiny, uncovering your blind spots, and learning how men think, you will have instant power and control over your love life. Better yet, you'll have internal peace in knowing that you're going to make all the right decisions in your future relationships.
To get access to this one-of-a-kind material, choose the option that best describes the kind of personal attention you desire.
Warmest wishes and many thanks,
Evan
Evan Marc Katz is a dating coach who specializes in helping smart, strong, successful women understand and connect with men since 2003. Thousands of his clients have fallen in love, gotten married, started families, and found happiness – after only a few months of coaching. His latest dating book, "Why You're Still Single – Things Your Friends Would Tell You If You Promised Not to Get Mad", was a critical success. He also operates a popular blog, EvanMarcKatz.com, which serves as a one-stop shop for anyone trying to understand relationship dynamics. Combining the insight of Dr. Drew and the wit of Adam Carolla, Katz has answered hundreds of challenging and controversial questions with a unique combination of logic, experience, and empathy. Take Evan's dating quiz.
11 responses to "Become the CEO of your Love Life with Evan Marc Katz"
Leave a reply
You must be logged in to post a comment.