How EXACTLY Do I Break Up With A Non-Committal Man?
Posted by Evan, 26 Jun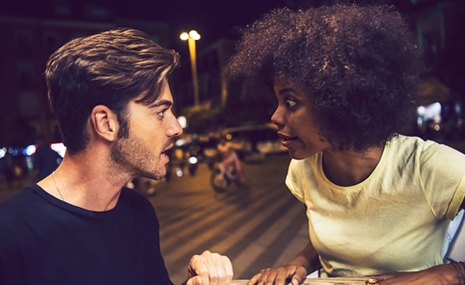 One of our readers emailed us this question. It read...
Evan,

Find your soulmate on InterracialDatingCentral

I have read your advice on non-committal men. I have done everything wrong. Sleep with him when he wants, clear my schedule for him, revolve my life around a guy who doesn't do that for me, but he "doesn't want to lose me", etc.

I know your advice is: "Walk away and don't look back. If he follows, you'll know you'll have yourself a boyfriend who values you and will follow you to the end of the earth. That is what you deserve. If he doesn't, then he's not all that serious about keeping you in his life, is he?"

My question is, what is the right way to walk away? Do I have a "talk" with him? I feel like having a break-up talk is close to the same as giving him an ultimatum. Do I just go away? What exactly is "walking away?" What would be most effective with men?

Eileen
Dear Eileen,
I must admit, I'm always surprised when advice that I think is straightforward ends up being confusing for a reader.
Obviously, that only means one thing: I'm not nearly as good at explaining myself as I thought I was.
So thank you for reminding me to dig deeper, to straighten out the subtle nuances of the concept of walking away.
Let's paint a scenario that should look familiar to most women.
You're seeing a guy for the past three months. And by "seeing" him, I mean that you've been sleeping with him approximately once a week since the night you met. (If you're not doing this, the story STILL holds, so please, stick with me.) You like this guy. You like this guy a lot. He's charming, cute, smart, kind and charismatic.
He is going to be a great boyfriend and husband for someone. Just not for you.
And you know this already because if he wanted to be your boyfriend, he'd already be your boyfriend. The fact that he sees you once a week, doesn't hang out with you platonically, hasn't introduced you to his family, hasn't talked about a future, and only communicates by text tells you everything you need to know. This is a dead end.
Now let's bring this back to you.
I tell you to walk away. What does that mean? Well, let's start with what it doesn't mean.
Walking away is not saying, "Jim, so where is this relationship going?" or "Can we talk about 'us'?" or "How come I don't hear from you during the week?" or "Am I your girlfriend or not?"
Those are all weak attempts to negotiate with him.
This is not a negotiation. This is a declaration.
Because you already HAVE the answers.
This relationship is going NOWHERE.
There IS no 'us'.
He doesn't call you during the week because he doesn't WANT to.
You are NOT his girlfriend.
This is all obvious to everyone but you (and maybe your equally dreamy and romantic girlfriends).
All you have to say to the noncommittal man – and I'm sure I've written this down somewhere before – is this:
"It's been fun hanging out with you for these past few months, but I'm not looking for a once a week fuck buddy. I'm looking for a boyfriend who is open to a long-term relationship with me. And since, apparently, it's not you, I'm going to have to say goodbye. No hard feelings. Best of luck in your search. Please don't call me anymore."
Tada!
Why should you take such a strong stand?
Because what's the alternative? Keep doing this weak-ass guessing game, hoping that he's going to step up and fall in love with you? Go ahead, give it a shot.
But first, show me a bunch of happily married couples who were fuck buddies for a full three months before becoming exclusive. Fact is: people tend to become exclusive FAST – often within days, but generally not much longer than 6-8 weeks.
If you're not settled with a guy by then, he's ambivalent, he's using you, and there's no one else to blame but you.
And if, by some miniscule chance, you cut off the guy who really wanted to be your boyfriend (even though he gave NO indication of it beforehand), guess what? He will let you know. And beg you to reconsider. And you can change your mind. And live happily ever after.
Except you know and I know that this isn't what's gonna happen.
You're going to give your little speech. He's going to look at you with a half-smirk, half-frown on his face. And he's going to say to you when you're done:
"You're right. You deserve more than I can give to you. I respect that. It's been fun. And if you're ever lonely one night and want to hook up, please let me know."
And then he'll hug you goodbye and you will move on your life, instead of wasting months and years on men who have no desire to commit to you.
You just need the courage to tell these players to piss off.
Find it and you'll be all set.
Evan Marc Katz is a dating coach who specializes in helping smart, strong, successful women understand and connect with men since 2003. Thousands of his clients have fallen in love, gotten married, started families, and found happiness – after only a few months of coaching. His latest dating book, "Why You're Still Single – Things Your Friends Would Tell You If You Promised Not to Get Mad", was a critical success. He also operates a popular blog, EvanMarcKatz.com, which serves as a one-stop shop for anyone trying to understand relationship dynamics. Combining the insight of Dr. Drew and the wit of Adam Carolla, Katz has answered hundreds of challenging and controversial questions with a unique combination of logic, experience, and empathy. Take Evan's dating quiz.
3 responses to "How EXACTLY Do I Break Up With A Non-Committal Man?"
Leave a reply
You must be logged in to post a comment.