Pose star Billy Porter makes history with Emmy win!
Posted by James, 23 Sep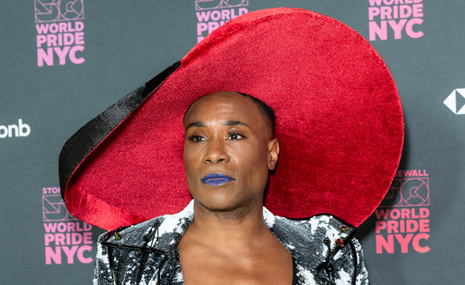 Photo credit: lev radin / Shutterstock.com
Find your soulmate on InterracialDatingCentral










Last night, Billy Porter made history!
The 50-year-old actor walked away with the 'Best Actor in a Drama' Emmy award, for his epic portrayal of ballroom emcee Pray Tell in Pose.
This made him the first openly gay black actor to win in that category in the entire Emmy Awards history. And as you can imagine, he broke down in tears during his acceptance speech…
"Oh my god, I've got to breathe. I've got to breathe. Oh my god, God bless you all," his tearful and emotional speech began.
"I am so overwhelmed and I am so overjoyed to have lived long enough to see this day.
"James Baldwin said, 'Took many years of vomiting up all the filth that I had been taught about myself and halfway believed before I could walk around this earth like I had the right to be here.' I have the right. You have the right. We all have the right."
He then continued to thank those who helped him in his career, as well as the other nominees in his category…
"There were so many people who helped me get here along the way, so I'm going to just say thank you. Thank you first of all to the other exquisitely talented men in my category. I love you all so much. It is such an honor to be up here breathing the same air that you all breathe. Thank you, thank you, thank you.
"We are the people, we as artists are the people that get to change the molecular structure of the hearts and minds of the people who live on this planet. Please don't ever stop doing that. Please don't ever stop telling the truth. I love you all."
And Billy Porter's emotional speech didn't end on the Emmy stage, as he also opened up backstage about "representation", adding that his historic win should encourage actors in the same boat to pursue their dreams…
"Visibility and representation are the only things that create change. It's when we're visible that we have the power to create empathy through the way we tell stories," he added.
"Being black and gay and out and being in this position and speaking from where I get to speak from is the change. I hope that young queer people of all colors can look at me and know that they can."
Billy Porter is one of the gay black celebrities who have been shamed on the internet by other gays for having white partners.
His Emmy will sit nicely in his trophy cabinet alongside his Tony and Grammy awards. And we predict that more gongs will follow in the near future…
Congratulations, Billy Porter!
Responses to "Pose star Billy Porter makes history with Emmy win!"
Be the first to leave a comment
You must be logged in to post a comment.