Interracial Dating Central Review
Posted by James, 27 Mar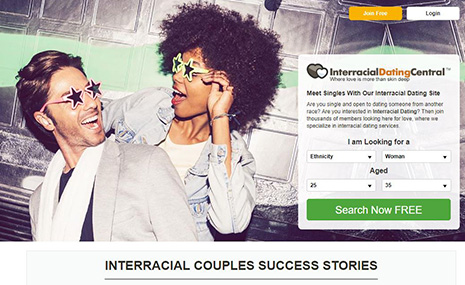 InterracialDatingCentral review – Matching interracial singles since 2004
For over 10 years, since 2004, Interracial Dating Central has been successful in matching interracial dating singles. According to an InterracialDatingCentral review on InterracialDatingsites.com, we created this article to sum up what they said about us.
Find your soulmate on InterracialDatingCentral










Key Features of the dating website:
- Search and filter based on race or color
- Special coaching articles and videos that will definitely expand dating skills
- Fyooz (The blog section of the site) offers entertaining and fun articles
- Prices are lower than most of the competitors
- Paid users have the ability to create private chat rooms and add whoever they might like
- Video chat with webcams, anonymous audio chat and instant chat are available to the Premium dating site users.
InterracialDatingCentral Overview:
InterracialDatingCentral is a dating site that is focused on helping people looking to date people from different ethnicities than their own. There is a variety of dating opportunities on Interracial Dating Central. For example, some people are interested in black and white dating while others are more likely to engage in Asian and Black dating.
By the time you register with the website, you will be requested to fill necessary details needed to build a representative profile. You will also be asked to provide details such as your race and your preferred race of dating. However, you have to choose if this option is "exclusive" or "preferred".
Interracial Dating Central Registration process review
Signing up for a basic FREE account is easy and quick. You get a lot of benefits with a FREE account. The registration process is a 3 step process that requires some basic information that includes the background of the member, the preferences of the user etc. Creating an account with Facebook login is also available.
Once the registration process is finished you will be prompted to upload some photos. The FREE members can upload up to five photos. From our experience, photos that display your face work better than photos that display the body or anything else unrelated.
InterracialDatingCentral functionality review
Once you get started with a FREE account, you will be able to view the profile of any member, including paid and free users. Paid users have the ability to see who looked at their profile whereas, free users do not. Free users can send flirts and reply to messages.
Interracial Dating Central review of being a paid member
Paid members have a lot of opportunities and functions that are not available to free members of the interracial dating site. For example, paid members can upload 15 photos rather than 5, they can send messages to anyone, the can send voicemails, or even start video calls with other members. Premium members can also create private interracial dating chat rooms and chat with whoever they might like.
In most locations, there are a lot of members which means single men and single women are available online. You get the chance to sort people by the date that they were last seen online.
Interracial dating central Coaching review
InterracialDatingCentral provides coaching to its members. For example, one kind of coaching is the FREE profile review that each member can get. An agent of the dating site will review your profile and let you know of any recommendations that you may alter to benefit from. There are also some other paid coaching services but we will not focus on them for now. The coaching sector has many FREE coaching videos. The aim of the videos is to help users to improve their dating skills and, therefore their dating opportunities.
InterracialDatingCentral Cost (premium price)
There are various options to consider when becoming a member on InterracialDatingCentral. You will also need to know that there are some times per year that the website offers special offers such as FREE months etc. However, the main prices are:
Free Basic Account

1 Month $19.95

3 Months $13.16/month (34% Savings)

6 Months $5.82/month (42% Savings)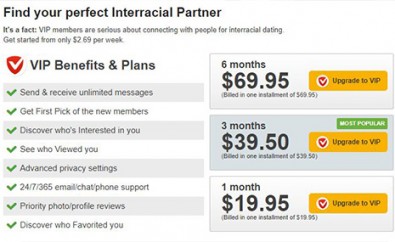 1 responses to "Interracial Dating Central Review"
Leave a reply
You must be logged in to post a comment.