Would you bring up the discussion of interracial relationships on an interracial date?
Posted by James, 06 Jul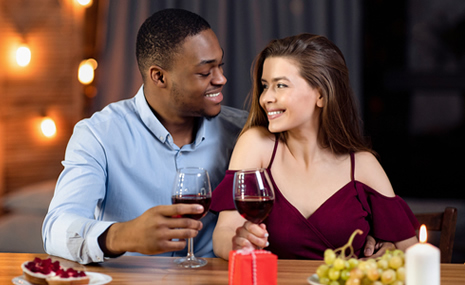 So, this Monday on the Bachelorette, 26-year-old pro football player Andrew S. decided to bring the discussion about interracial dating on their one-on-one date with Katie Thurston.
"I hate that I even have to have this conversation because I don't want to, but the fact that I am, it's because I do truly see, you know, something between us. And I am a Black man. And you are a white woman, and interracial couples, there's things that, you know, people look at differently," Andrew sprung that on Katie.
Find your soulmate on InterracialDatingCentral










He went on to tell her how he almost proposed to a woman who wasn't she was cut out to handle the judgment that some onlookers, even friends, and family pass on to interracial couples.
The thing is: the chick wasn't racist. She just was worried about deal with awkward questions at the grocery store like: 'Are these your kids. They don't look at you'.
This can be a touchy subject but sometimes I think it's best that couples discuss this before they get in too deep only for one party to be disappointed.
Andrew admitted that it was tough for him because he was going to propose to her soon.
Katie said hearing Andrew's experience broke his heart saying, "I feel so naive as a white woman of the struggles that you experience as a Black man, especially a Black man trying to date a white woman. Know that, for me, I think our love could be so beautiful, and our children would be just as beautiful as that love, and I don't give a **** when people want to look at me."
Katie's perfect response wowed viewers of the show. She even said how she would never let anyone come between them and the beautiful kids they would have as a couple.
Katie also admitted that the question of that issue of mixed kids had never crossed her mind… saying it's probably because she is a naïve white woman.
"You know, all I want is to have a beautiful family regardless of how they look," shared Katie.
As I said, these are real conversations that people should be having. I think couples should try and be more honest with one another about interracial relationships.
5 responses to " Would you bring up the discussion of interracial relationships on an interracial date?"
Leave a reply
You must be logged in to post a comment.