Why the number of black women dating white men is increasing
Posted by James, 05 Jun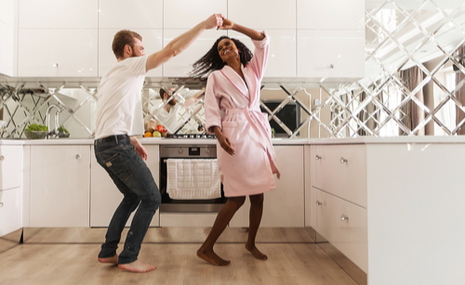 Over the last couple of decades, the number of black women dating white men has been increasing. Several reasons have been sighted about why African American women are becoming more comfortable dating outside their race. In today's article, InterracialDatingCentral is looking at some of these reasons. Want to know more? Scroll on...
Black women and dating interracially
Find your soulmate on InterracialDatingCentral










For years, black women have been known as the least likely group to date interracially. Some online dating surveys claim that they are the group that gets fewer messages from men of other races. Some men claim that the strong black women in intimidating, hence unapproachable. And they have been dubbed unmarriageable.
This stereotypical narrative is now changing. More black women are dating white men. And contrary to the belief that men of other races don't find them attractive, there are a lot of white men who prefer black ladies. And the numbers of white men with black women speak for themselves. Well, here is why we have those numbers.
Black women are encouraging each other to date interracially
Years back, black women were expected to be the ones maintaining the 'purity' of the black community. Not any more. Those who have had success with their interracial relationships are now encouraging black women dating to stop waiting on black men to sweep them off their feet. The thing is, black men have been dating interracially for years. So why shouldn't the black woman do it?
There have been books that encourage black women to swirl -  specifically to date white men. There have been movies like "Something New" that as the name suggests, the message is to urge women to try something new - to consider finding love as opposed to dating a man because of skin color.
The thing is, there are black women who never imagined themselves with white men, for instance, Serena Williams. However, when they met the right men, who happened to be white, they exceeded their expectations. And these are the women who are narrating their real-life stories and have been an encouragement to others who were adamant to try interracial dating.
Online interracial dating success stories
With online dating on the rise, it makes it easier for the black woman to connect with men of other races. And interracial dating sites have played a major role in this. See, one doesn't have to be scared of approaching a man they like because they are not sure whether the man is willing to date black women. All you need to do is just search for those who are looking for attractive black women online and message them.
There are thousands of marriages between black women and white men that have happened, thanks to online dating sites. So as black women read these success stories, they get the inspiration to find love regardless of race.
People are more receptive to interracial relationships
We remember the days of Mildred and Richard Loving in the 1960s, a black and white couple who had to fight for their right to love. Well, these two paved way for the acceptance of interracial relationships. And those white men who were dating black women in hiding got a voice and they started doing it openly. Since the ban of the anti-miscegenation law, more interracial couples felt freer to date outside their race. And today, dating black women are also doing it. People frown on the women who date out lesser than decades ago.
White men are genuinely attracted to black women
When we look at previous stories about dating black women, the story was that men of other races don't want them. But there are white men who are just drawn to that dark skin. And they don't find it intimidating. White men are publicly declaring their love for black women and the way she carries out herself.
Before, such generalizations that men of all races find black women unattractive could have made dating as a black woman hell. But hey! Why are we seeing more and more white men in relationships with black women? Maybe we were missing something there. Maybe we were just generalizing as always.
Interracial connections in college and at work
She has been called independent. She has been called successful. The thing is, black women dating are looking for men who can challenge them intellectually. So if this man happens to be white, why not.
Colleges and workplaces have also played a role when it comes to black women and dating. They get to mingle with people of other races. Now, you might find a woman who never considered that she ever would end up with a white man. However, she meets someone at work or in college and gets drawn to his way of thinking. And they form a bond that eventually becomes love. Before you know it, she is breaking her own barriers and is dating a white man.
The dynamics of black women dating are changing. They are realizing that dating someone who is loving and respectful from another race is better than dating someone from your own race who isn't. Finding true love is becoming a priority. So they are no longer restricting themselves to dating within their race. They are expanding their dating options.
Yes, there may be some expectations from the black community that suggest that she should date within her race. But what's more important? I think happiness is. Black women are tired of being labeled the angry, single black woman. So if one can find love in someone from another race, why not take the chance?
Most women will tell you that dating as a black woman isn't easy. Her success and strength is something that scares away some men. However, these are some of the qualities that white men find very attractive. I mean, if you are successful, then you are bringing more to the table. Why should one run away from that?
Well read this article and see how beautiful black women aren't as intimidating as people paint them to be.
1 responses to "Why the number of black women dating white men is increasing "
Leave a reply
You must be logged in to post a comment.