Why are Men So Attracted to Blonde Hair?
Posted by James, 21 Jun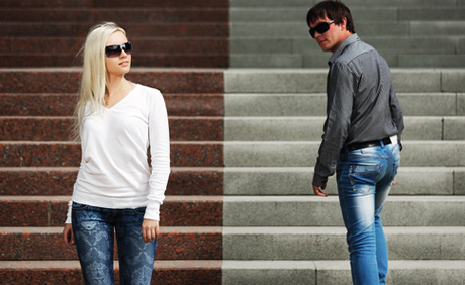 Blonde hair
Does blonde hair turn men on? Do men find blondes more attractive than women with darker hair color? Apparently, there are few Caucasian women who have naturally blonde hair. It's called the era of hydrogen peroxide. Anyone can go blonde in a flash. Given a blonde and a brunette, there are men who will say they would pick to date or chat with women with blonde hair any day. In fact, there is a guy who actually said he gets more attention when he is out with a blonde than when with a brunette who is equally attractive. Why is this so?
Find your soulmate on InterracialDatingCentral










Femininity
White women who are blonde by birth apparently have slightly higher estrogen than women with darker hair. They possess other youthful sexual traits that men are considered attractive by men. Normally, they have thinner noses, smoother skin, less body hair, narrower shoulders. Generally, blondes have finer facial features. And to add on to their physical features is their youthful behavior – playful and full of energy. Lighter hair is perceived by most men as more feminine. If you look at the same woman in blonde hair against black hair, the blonde version appears more feminine to most men. It's just like skin color. Lighter is perceived as more feminine. For male attraction, the darker hair and darker skin are probably what women find more masculine I guess.
Status symbol
The other thing is the media portrayal of blondes. They are usually portrayed as high maintenance. So men who roll with blondes are perceived as cool and filthy rich. Having a blonde woman becomes a symbol of status and affluence. Because of this idea, men find themselves putting blonde haired women on a pedestal. And since blondes generally appear more beautiful, they become a status statement. Who doesn't want his pals to say with envy: "Did you see him with that hot blonde". It's all about selection. Men choose women mainly for their physical features.
Playboy
Ever since before, blondes have maintained their popularity. Look at Playboy for instance. Blondes are the center of the whole TV show and magazines. This kind of selection makes men idolize blondes until today. The show and magazines portray them as more fun and more sexually open to try out new things in the bedroom. And this seems to have shaped the American man's definition of beauty. May Playboy is the real reason Men love blondes. But if you are looking for a natural blonde, then you better be able to know real from peroxide blondes. And the way to tell this is by looking at the roots. However, if appearance is all you are going for, then peroxide blonde hair will do just fine.
6 responses to "Why are Men So Attracted to Blonde Hair?"
Leave a reply
You must be logged in to post a comment.