What We Can Learn From Japanese Dating
Posted by Genevive, 31 Mar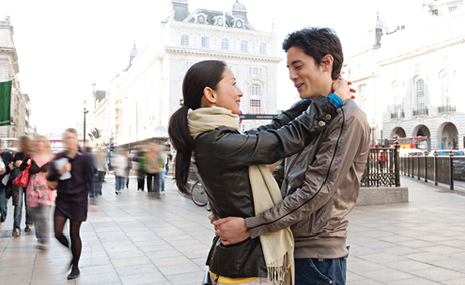 There is much we can learn from other cultures and Dating is no exception. As the CEO of a leading Personal Introductions Agency in the UK, Elect Club, as well as a Relationship and Life Coach and expert for Guru + Go, I am always inspired by how dating works in other countries and what lessons we can learn and implement for our clients. Earlier this year I was featured in a TV documentary about "How we date around the world" and was intrigued at the vast differences around the globe when it came to dating.
I was particularly drawn to the Japanese approach and was then on a mission to link up with Japanese Matchmakers to see what secrets they could pass to me that we could replicate in the UK Market. Being part of the Matchmaking Institute and one of its trainers I was delighted when I met an amazing Matchmaker from Japan earlier this year, who I now have the pleasure to be working with for some of my International Clients. She told us why there is such a low divorce rate in Japan and yet they only date for a matter of months.
Find your soulmate on InterracialDatingCentral










In Japan the custom is to date in a dedicated and monogamous way, so none of the conveyor belt dating we are accustomed to in the UK. They dedicate as much time to each other during the initial few weeks and months and don't jump in to a physical relationship until the respect and boundaries are in place. As you can see, this is a far cry from the dating scene in the UK and most of Europe. There are a number of other things they do too and take the process seriously. After all when you buy a house you go to an expert and in Japan, Matchmakers are the key to successful introductions. The UK has the highest rate of singles in London than any other capital city in the world, with over 50% of our capitals population avoiding the "C" word, and I'm talking commitment!
I am constantly asked why I think this is, and from my experience I believe the "conveyor belt mentality" has a lot to answer for. Over the last decade there has been a huge increase in quantity dating rather than quality dating. Online sites and apps play an important part when it comes to keeping you meeting more and more people, to the point that the majority of us wouldn't recognise the right person if they were standing in front of us with a huge sign saying "I'm the one!"
The other issue is the fast and furious pace we live our lives by and never settling for anything less than perfect. We then spend years searching for perfection, until we end up settling for something far less many years later, after our search for perfection fails miserably. How many great people did we let go of because they didn't tick a particular box? The key to remember is none of us are perfect and we will let each other down.
I see people every day looking for a "perfect partner" and the first thing I do is a reality check and work out what actually constitutes perfection in their eyes. I have started to adopt the Japanese approach and our success date has more than doubled, already in the last 12 months we have had a marriage and many couples committing to each other earlier on in the process. We are also coaching clients on seeing past perfection and focusing on what is really important, rather than the visual and materialistic needs and wants that society is so hung up on.
Our Wedding couple from this year, came to us in the same week in January 2015 and were both in a good place having spent time on the "conveyor belt" they were ready to do things differently and put their trust in our team to try dating in a healthy way. We actively encourage all our clients to dedicate more time to dating and focus on what is good about a person rather than finding fault with everyone they meet on the first date and move on. All too often clients write people off before they even get to know them.
When we met Merry and Piers they both wanted a loving and committed relationship and ideally marriage with the right person. They went through the consultation process and were sent off for a first date and did exactly what was asked of them, "look for great things in each other and similarities and build on that". Very soon they ran a half Marathon together and were planning a holiday. Before we knew it Piers had proposed and we were delighted when they got married in October this year, just some 10 months after meeting through us at Elect Club. They are a great reflection of the couples we put together and with our Date Coaching programs, encouragement and support we are using the Japanese model with our clients and its working wonders. Everyone who comes to us wants a "Happy Ever After" relationship, and a life partner, whether that is marriage or a loving committed relationship.
We are loving working with the Japanese model as we feel the UK clients are ready for it. They are getting fed up of meeting new people every week and actually just want to settle down in a loving monogamous relationship. We are delighted that so many clients are having success with this way of dating and it shows by changing your focus and attention and with a bit of encouragement from a professional, Love really is possible in such a short space of time and hopefully in a few more years we can ensure London is no longer the Singles Capital City in the World!
"Download Genevieve's complete online dating guide here ==> http://bit.ly/gurungo"
Genevieve Zawada has over 20 years' worth of experience in coaching, mentoring and putting relationships together. With all of this wealth of knowledge, Genevieve has dedicated her time to helping people find, build and improve romantic relationships.
Responses to "What We Can Learn From Japanese Dating"
Be the first to leave a comment
You must be logged in to post a comment.