What to cook on Valentine's Day?
Posted by James, 21 Jan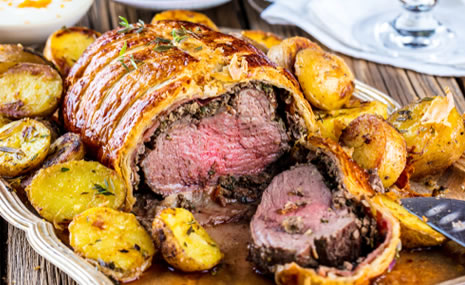 There is no running away from the dinner aspect of Valentine's Day. When done right, this is probably the most romantic aspect of the evening. If you are looking for Valentines dinner ideas one thing you need to be aiming for is making something that is very tasty yet not too heavy. I mean… Who wants to be too full and too lazy for the other highly anticipated activities of the evening (wink), right?
For me, the perfect Valentine's Day dinner is one that takes place at home away from the crazy excitement of the evening people experience at most restaurants. Plus, you don't have to worry about nailing a spot at your favorite restaurant. So, if you miss a spot, no need to break that thin sweat. There are so many dinner ideas for Valentine's dinner at home ideas. Plus, you need some intimacy, right? Well, the home setting will give you just that.
Find your soulmate on InterracialDatingCentral










What you want to aim for is a dinner that says, 'I really made this for you… with only you in mind'. So when searching for those recipes, how about getting out of your comfort zone and trying to make something that he/she hasn't had before. Just so it doesn't backfire on you, have a test run before the D-day. The most important advice I have for you is, whichever Valentines menu idea you go for, stick to familiar flavors and seasonings. The idea is to get a wonderful surprise, not an awful 'surprise' mid-dinner.
Let's get you started…
Valentines dishes ideas
Beef Wellington
If you are having Valentine's dinner date at home, one of the meals to consider making this person you would like to impress is a tender, juicy beef wrapped in puff pastry. This meal is going to be a great start for your romantic dinner at home. This can be a show-stopping centerpiece to your dinner.
Much as it might look impressive, this meal is pretty easy to make. If made well, you really will impress your date. The best part about it is that you won't need a sauce as the center-cut beef tenderloin has a great coating of Dijon mustard.
Chicken with Sautéed Apples and Mushrooms
Our second idea of Valentines dishes is to sear some crispy chicken thighs to absolute golden-brown perfection. The chicken is seared on a layer of cremini mushrooms and Gala apples. The mushrooms and apples give the dish a sweet and earthy flavor that you and your Valentine's will for sure enjoy.
Crab or Lobster
Nothing gets some people into the mood more than a little unexpected luxury. An indulgent meal of crab and lobster really fits the bill. The hard work of cracking and sucking out the morsels of sweetmeat, combined with the briny saltwater smell, can really get a body into the mood for a whole different kind of exertion. Golden pools of butter create a hot tub of desire — let each morsel of seafood take a buttery bath and then lick each other's fingers before proceeding to the main event. You will really enjoy this Valentines menu idea.
Bagel Salmon
On our list of romantic dinner ideas is this salmon that is coated with a homemade blend of dried garlic, dried onion, toasted sesame seeds, poppy seeds, and salt. Blend all these spices with a squeeze of lemon. This coating is the best flavor to put on top of the salmon making it very flaky. Pair this centerpiece with bright, crunchy fennel. This blend of spices is fantastic on everything.
Tuna spring rolls served with pineapple dipping sauce
Look for some rice paper wrappers for your tuna rolls beforehand. These can be found on the Asian food aisles. Then, of course, there is the tuna. The ones recommended are the yellowfin tuna caught off the U.S. Pacific coast. If you can't find tuna, you can subsidize it with cooked shrimp. You could use the pineapple dipping sauce as a glaze.
Sprucing up the place for fancy dinners at home
These Valentine's dinner ideas will not be perfect without sprucing up the place for your fancy dinner at home. So, before you think about your meal, prepare for the whole event. Touch up the place to make it go with the fancy theme that you are aiming for the evening. Make this dinner the highlight of this special day. Even if you decide to with a simple breakfast for two, don't forget to set the mood. Here are some ideas…
Lantern walkways
Line up your pathway with lanterns as a way to set the mood for an intimate evening for the two of you. This will be a great romantic welcome for your date. Can you imagine him or her will light up at the sight of such a setting? This serene atmosphere will make them realize just how much thought went into all these preparations.
Make the room cozy
Do a simple touch-up to where you will be having your dinner. Turn down the lights and get some fancy candles to flicker around the room while you enjoy one of the above-mentioned meals.
Remember to get the playlist right
Before the evening, go through your playlist and line up music that will compliment the mood of the evening… romance… nothing else. Some slow, sensual music will definitely go well with your elegant dinner menus ideas. So, choose music that is soft enough to allow both of you to focus on the conversation. Mix things up a little. Have some instrumental music as well as music that has lyrics too.
Spice up your bedroom
The above Valentine's dinner ideas won't be complete with that draggy duvet on your bed. Live a little and spice up the bedroom by laying some rose petals on the bed. Seeing as it's Valentine's Day, incorporate some red in your decor.
Go for soft scents when buying your candles.
With such ideas, who will fuss over not getting a table at your fancy restaurant again?
Responses to "What to cook on Valentine's Day?"
Be the first to leave a comment
You must be logged in to post a comment.