The ultimate wedding planning checklist
Posted by Darci, 24 Oct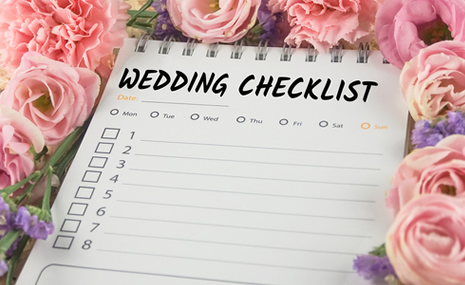 Wedding planning can be quite stressful for the bride-to-be because of the pressure for it to be perfect. Check out this guide on love is all colors and see how to spin things...
Comprehensive wedding planning guide
Find your soulmate on InterracialDatingCentral










A wedding is a celebration of love, mutual understanding, and commitment. Couples pledge their undying love and loyalty towards one another with a promise to stand by each other through thick or thin. And every couple wants that day to be as perfect as ever.
From picking your venue and managing a budget and guest list to nailing down your wedding planning timeline, you'll want to have every detail accounted for to make your big day perfect. Sometimes, omitting or failure to plan for even the tiniest detail may lead to a tad of frustration or a feeling of imperfection for the couples involved. Hence there is a need to have a wedding to do list and start planning for the big day early.
The best time to start planning for a wedding is immediately after the engagement. The second best time is after reading this article!
Whether the wedding is planned by the couple, family or a professional wedding planner, a wedding planning checklist is essential. This checklist serves as a guide and time manager to even the tiniest of details. I could remember when I planned my wedding, had it not been for my checklist, my fiancé would have totally forgotten to buy the drinks. Thanks to the checklist, a lot of about-to-be-forgotten items were eventually accounted for.
With a good wedding checklist, the wedding planning will turn out a very easy. Below is a comprehensive 12 months wedding planning checklist to guide you to plan splendidly for the big day. Yes, we may not all have the Prince Harry and Meghan Markle kind of wedding, but we can sure do great with the one we plan.
Here is a 12 month wedding checklist to aid you to stick to the wedding planning timeline.
12 months prior to the wedding date
Book the venue and set the date
Book the wedding venue ahead of time and seal all arrangements regarding the paperwork for the venue. The availability of a venue will determine the date of your wedding.
Get a wedding budget ready
You could do this personally, or call a professional to help you craft out a budget for the wedding. Big items such as catering, wedding destination, costumes should be the first thing on your mind. Other items such as cleaner fee, vendor gratuity, decorations should come in as well. The way you prioritize goes a long way to ensure the success of the wedding.
Please note that you can't do all the things by yourself, so I advise you hire a wedding planner on time. They have done it before so they know the drill.
Start making the list of who you want at your wedding early. Trust me, you do not want to forget the most important guests on that day.
Plan for other intricate wedding items
Remember to plan for things such as wedding style and color palette, booking of the reception, and selecting the desired ensemble. We do not want a repeat of the movie 'Bride'.
8-10 months before
Sort out the details of the wedding theme with your planner.

Plan the food and bar menu for the wedding reception

Hire an excellent wedding photographer and videographer. Discuss all photo options beforehand and ensure the photographer is reliable.

Make preparations for additional rentals.

Do not forget to request time off from work. This is very important especially if the venue and honeymoon are far from your workplace.

Send out the invitations. It is essential to give guests heads-up on time to enable them to plan their schedule before the said date. Send save-the-date cards. This is a particularly good idea if you're marrying during a tourist or holiday season or having a destination wedding.
6-8 months before
For the bride, order your gown. The groom should also start making preparations for his Tuxedo.

Decide the entertainment for the day and ceremonial details.

Get in contact with a reliable and excellent florist.

Get in touch with the officiant so you can know what is expected of you.

Choose the bridesmaids, flower girls and their respective male counterparts.

Start planning ahead for the honeymoon. Yes, many couples wait till the last month before making arrangements for the honeymoon. I hate to break it to you, but there's a high possibility you might end up not going for your dream honeymoon. Start early to book for necessary travel location and tickets.
4-6 months before
Depending on what you want, you can go for premarital counseling. Much as most people ignore this, it really helps in dealing with issues in your marriage.

Purchase the wedding rings. The wedding ring is the most intricate ornament for a wedding occasion. Couples are advised to get their rings early, proofread the engravings and adjust the size before the wedding date.

Book venue for the rehearsal and rehearsal dinner.

Decide how and where you want to spend the wedding night. Make reservations beforehand.

Renew all expired passports in preparation of whatever trip you intend to make.

Sign up for dance lessons if you aren't that great on your feet.
3 months before
As the wedding date gradually draws near, there is a need to go over the wedding schedules and checklists to ensure every activity has been accounted for. Here are things to consider...
At this point, preparations and order for the wedding cake should commence.

Schedule and have your shower, so it doesn't interfere with the main activity.

For the groom, get ready with all the groom's and groom's men formal wear.

Hire the transportation and other cars for the wedding.

Hire an artistic calligrapher for the personalized envelopes, place cards and menus.

This might come as a surprise, but it is wise to plan for your exit routes on the wedding day. With all the guest clamoring around you, the couple needs to prepare how to get away from all that when they intend to leave for the venue.
2 months before
Write your wedding vows.

Mail out the invitations to your guests.

Make some last minute adjustments and convey all the necessary information about the dates and details to the vendors for the last time.

Design the wedding program for the guests.

Get your fiancé a wedding present.

Book a makeup artist and go for a trial run.
1 month prior
Apply for a marriage license.

Go for the final fitting of the dresses and tuxedos.

Purchase just-in-case items.

Track RSVPs.

Prepare a seating chart and name cards.

Take a 3 day holiday and celebrate your last days of being single.
1-2 weeks prior
Do a final review of the RSVPs and call guests who are yet to respond.

Confirm the availability of the videographer, DJ and photographer.

Get the last pre-wedding haircuts and color
1-2 days before
Make calls to confirm all arrangements are in place.

Get the wedding dress pressed or steamed.

Write off all necessary checks.
D-day
Wake up happy and lovely and prepare on time.

Present each other with gifts.

Walk down the aisle.
Follow the link to download our printable wedding checklist.
Did you hear the story of how Prince Harry and Meghan Markle returned wedding gifts worth 7 million? Check it out.
Responses to "The ultimate wedding planning checklist"
Be the first to leave a comment
You must be logged in to post a comment.