Top 7 movies to watch on Halloween in 2020
Posted by James, 10 Oct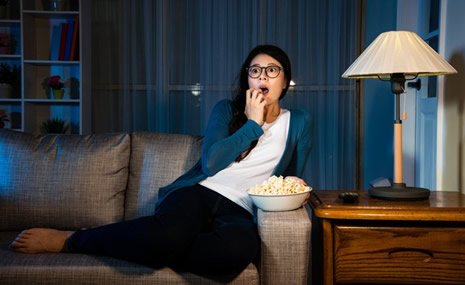 Halloween can't be spooky enough without indulging in some of the classic movies to watch on Halloween. Especially now, with COVID-19 restrictions, if we are not trick or treating, a great Halloween movie is a must-have to make this day complete. Whether it's a family horror movie or just something to spook you as you self-isolate, put some popcorn in your mask-adorned pumpkin and get into the scary spirit.
Check out some of the Love is All Colors Halloween favorites to try out.
Find your soulmate on InterracialDatingCentral










Top Halloween movies to indulge in
One thing that people are excited about this year, besides making Halloween costumes is Halloween movies and the vicarious thrills and chills they offer. You get into the feelings and scary sensations without having to suffer the physical consequences. Watching Halloween classics is the most traditional thing people do as the day draws near.
This year, there is the coronavirus and the contentious US elections to deal with. So, one thing that watching a horror movie will do to you this year is that it will offer the perfect escapism. Even if you might not be able to enjoy some of these flicks at the big screen, this year you will possibly stay home, curl up in front of the TV and stream some of these scary movies to watch on Halloween.
Lucky for us, there are plenty of creepy movies to go around that can satisfy various groups of viewers. Some are very creepy because they are about demons… others are child friendly. If you are looking for Halloween classics that are more child friendly, search for kids' Halloween movies on the various movie platforms online.
Well, let's take a look at our pick of Halloween favorites to watch that will surely make you jump out of your couch!
1. Scream (1996)
This is one of our favorite slasher kind of horror films. It was executed cleverly and with deadly wit. The movie starred world-class movie stars such as Courtney Cox to Drew Barrymore. The combination of these big names made this scary movie a fan-favorite hit. And ever since its release, it still continues to be a hit film to date.
The movie revolves around this girl names Sidney whose mom gets murdered. A year later, more murders start to occur. Sidney begins to suspect that there is a relation between these new murders and her mom's murder which occurred a year before. So, she sets out to find the killer. In this thrilling horror movie, everyone appears to be a suspect.
What you learn in this film is never to get near any man in a mask. The other words of caution – don't ever say "I'll be right back" because no one comes back "right back".
To show you just how great the film was and how much contribution is made in the horror genre, there have been 3 sequels since the original 1996 film - Scream 2 (1997), Scream 3 (2000), and Scream 4 (2011). Plus there is also a TV show based on this film.
2. Get Out (2017)
It may have made it on our list of Halloween movies. But Get Out isn't your normal kind of horror flick. It addresses issues dear to American's today: racism and racial identity. And what it shows is how we are still far when it comes to understanding each other's identity.
When going to meet the parents of his white girlfriend Rose (Allison Williams), Chris (Daniel Kaluuya), who is a black photographer, is anxious about being a black man going to be introduced to a white family. No amount of convincing that the family was ok with him being black was enough. And true to his fear, the parents had sinister motives behind the invite and as the movie progresses, the racism dynamics get creepier and creepier.
Rose's mother offers to hypnotize him in order to help him quit smoking which takes him to a 'sunken place' where much as his consciousness is somewhere within him, his body is paralyzed. All this hypnosis is a ploy to transplant the consciousness of white people into healthy black people through literal brain surgery.
This new-ish movie Jordan Peele's masterpiece quickly became a horror classic that uses the white exploitation of Black people as a medium for paranormal horror. With the all the racism surrounding America today, this one of the must-see scary movies to watch on Halloween
3. Hubie Halloween (2020)
This movie makes it to the top Halloween movies to watch in 2020 because for one it is a 2020 movie. It is a Netflix original starring comedian Adam Sandler who plays a community volunteer as he sets to uncover a Halloween-flavoured mystery. Right down to the voice of his character, it seems to be like some of Sandler's classics like The Waterboy.
Sandler plays Hubie Dubois, a guy who works in a deli in Salem, Massachusetts. Hubie is a devoted volunteer of the community. Besides being good-natured, he finds himself to be the object of the community's mockery and meanest pranks.
When he goes to a local Halloween party to keep an eye on the activities of the day things suddenly turn sour. He finds himself in the middle of a real investigation as he tries to uncover a real murderer.
4. The Sixth Sense (1999)
This is another one of the most popular classic Halloween movies. It has a famous quote - "I see dead people".  Starring Bruce Willis and Haley Joel Osment, this psychological thriller and paranormal drama follows the life of a nine-year-old boy, Cole Sear, who like the famous quotes indicates, sees dead people and communicates with them. These visitations and hauntings by ghosts of people with unresolved issues really frighten him – considering they appear from dark shadows.
A child psychologist, Malcolm Crowe (played by Bruce Willis) tries to help him seeing as he is the only one Cole can be open with about his anguish with these ghosts. They go through some unexplainable experiences as they try to uncover the truth about Cole's supernatural abilities. Plus there are some consequences for trying to dig into the supernatural world.
5. The Exorcist (1973)
This one is on our list of Halloween movies because we are scared of horror stories that centre around demonic possessions. This is one of the most profitable scary movies ever made. And what makes it even scarier is that it is loosely based on real-life events.
The story is about the demonic possession of a young girl, Regan, who starts acting eerie – from speaking in tongues to floating in the air. Her mother tries to seek medical help in vain. A local priest, however, believes that the girl may be possessed by the devil and satanic forces and decide to perform an exorcism. This job proves not to be an easy one!
6.The Addams Family (1991)
If you are looking for kid-friendly classic movies to watch on Halloween, then you need to consider The Addams Family – a wacky family with frightening faces. If you watched it as a kid, then you probably remember that catchy theme song at the back of your mind. Put this family movie and teach your kids this tune.
7.The Ring (2002)
This classic takes creepy to a whole new level. After watching it you will think twice about watching old cassette tapes. Be very afraid…
Now that you know what classic Halloween movies to look out for, you are seriously going to love these Halloween costume trends 2020. Follow the link to check them out.
Responses to "Top 7 movies to watch on Halloween in 2020"
Be the first to leave a comment
You must be logged in to post a comment.