Tana Mongeau on being racist in the past
Posted by Darci, 11 Aug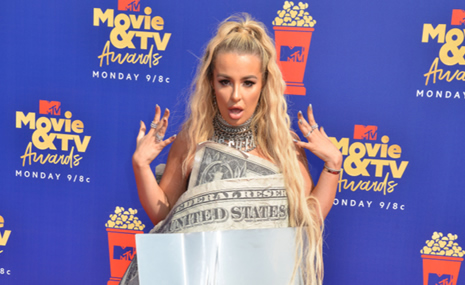 Photo credit: JNAM / Shutterstock.com
YouTuber Tana Mongeau has been under a lot of fire because of her past racist behavior she directed towards her friend Kahlen Barry. That seems not to be the end of it. More allegations are being hurled at her. Tana, 22, has also been accused by another YouTuber Nessa Briella, who also calls herself SimplyNessa15, for racist microaggressions, together with her manager, Jordan Worona.
Find your soulmate on InterracialDatingCentral










Do you want the scoop about all this? Read on for some more juice about these accusations…
Who is Tana Mongeau?
Tana Marie Mongeau is an American Internet celebrity famously known for her YouTube "Storytime" videos as well as comedy videos. She is also a musician and a model. Just like many other YouTube personalities, Tana has had her fair share of internet controversies as well as backlash. The main issue people have with her is making racist remarks. She seems to have been rubbing people the wrong way with these remarks.
With 5.7 million YouTube subscribers and counting, Tana Mongeau has been uploading her YouTube videos since 2015. These fans of hers tune in weekly in anticipation to watch the next video. In 2019, this YouTube sensation became even more popular courtesy of her controversial videos. Tana's first video  "Hairdresser from Hell?", has more than 3.4 million views up to now.
As her channel gained more popularity, Tana started collaborating with other famous YouTubers such as Cody Ko, James Charles, David Dobrik, Shane Dawson, and Josh Peck.
What brought her more fame was when she tweeted in 2017 that she wanted to date Bella Thorne. The pair met up 2 days later and shared the photo of them kissing on Instagram, just to break the internet as she put it in one of her videos. Tana admitted openly and honestly how that single photo changed her life. And that same photo is when led to her and Bella Thorne beginning a real relationship. Tana once claimed that she had always been 100% straight until she met Bella Thorne.
What are the accusations against Tana?
Now, apparently, Tana has stepped on some of the YouTubers because of some of her controversial videos. Apparently, in her video Dear Tana Mongeau, she claimed that Youtuber Nessa Briella was backbiting her. So, Tana used these claims and called her crazy, implying that she had anger issues.
She also called Briella a schizophrenic YouTuber, an illness that Briella has never been diagnosed with. Then apparently whenever the two met face to face, Tana would act like everything is just cool with them and then continue making the schizophrenia claims when they are not together.
The pair joined the YouTube scene at about the same time. In fact, Briella is the one who introduced Tana to her manager, Jordan Worona, who signed Tana immediately.
Now according to Tana, Jordan Worona is the one who continued pushing the rumor that Briella had mental issues. He allegedly called her schizophrenic YouTuber in the hopes that Briella becomes alienated to anyone who associated with Tana or himself. He even went to the extent of dropping Briella, who is African American as a client, then introduced her to a manager who was supposed to "get her". Turns he was introducing her to a manager who is black.
Racism accusations against Tana
I will tell you for free that this is not the first time that the YouTuber is being accused of racist remarks. Kahlen Barry, a former friend, and fellow Youtuber accused Tana of gaslighting when they were preparing an old YouTube video channel "Trash". This was between 2012 and 2014. Barry swears that her comments came from a racist place.
Apparently, she kept using racist slurs when they working together via tweeter, Snapchat, and other social media live streams. When Barry called her out about her racism, she downplayed the accusations, calling him an "angry Black person."
That didn't stop there. Immediately after Barry released his video, some of the old tweets resurfaced. Besides other racial remarks, Tana called her own BFF, Imari Stuart, a "cotton picker" who needs to "go back to the plantation."
Has Tana ever issued any apologies for these racism allegations?
One thing she did was to own up to her mistakes. Immediately after Barry's' video went up, Tana apologized to him immediately in a string of tweets saying that she was sorry if she ever said anything that made him feel like she was being racist and said that she will also spend a lifetime showing that she is not a racist individual. However, she took a bit of time before making her apology. She claimed that she took long with her apology post because she was trying to find the right words to address her apology and do it in a way that no one would get hurt any further. Apparently, her silence meant that she was trying to educate herself on the best way to handle the apology.
Now much as talked about spending a lifetime making it up to Barry, Barry says that it has been short-lived. Tana has gone silent and has been ignoring his messages. He had sent her a DM on June 22 asking her if she wanted to do a Livestream but she didn't respond. He was 'ghosted' again on June 24.rry said he doesn't believe that Tana's apology tweets were genuine saying she actually never took the responsibility for her behavior. He believes she did it publicly just to save face.
On July 10th, Tana also mentioned that she was working on videos that would address her issue with Briella. This she talked about on her Instagram Stories and assured her fans that she was aware of the tweets they sent, asking her to address all those accusations. Tana's fellow YouTube influencers have been pressuring her to do so.
All these racist allegations especially concerning black people have been gaining momentum because of the Black Lives Matter movement. In their Instagram stories, Barry and Briella highlighted the frequency of racist microaggressions in the influencer industry. SO, they were hoping that Tana would own up to it.
She said she will be making several Tana Mongeau YouTube videos in the coming weeks and promised to fully and honestly address those accusations about Briella. She also insisted that she will be taking full responsibility for the wrongs she has done in the past. She is hoping to come up with the best way to show people exactly who she is.
But Barry and Briella feel like instead of posting loads of Tana Mongeau YouTube videos speaking about her side of the story, they just want her to take a step back and give them an ear. Apparently, they had asked her not to make a video but she went right ahead and did it, Bara feels she isn't listening to Black voices in the least.
As the calls to speak about her accusations and racism are increasing, even with the Pandemic, Tana has just been partying in LA. Commenters have criticized her for attending a party with 70 other influencers where none of them were not only not social distancing but also not wearing masks. She and Erika Costell, who is her ex-husband's ex-girlfriend were said into the camera that they "don't care" about the tension they had between them before. Unfortunately, it was taken to mean that they didn't care about following the public health pandemic guidelines. Her fans expressed even more disappointment in her.
Several commentators who call out racial issues such as Cherita Gaskin have accused Tana of performative activism on their YouTube Channels saying she should remove "Black Lives Matter" from her Twitter name because her actions don't reflect that. Glee actress Samantha Marie Ware called Tana out for not acknowledging Barry's pain directly. She talks about how Tana won't be the last person to mistreat people of color like Barry and Briella as people of color face microaggressions daily. But influencers like them have the vehicle to openly talk about it.
Initially, Barry was nervous about the kind of responses and reactions he would get for posting the video. Besides wanting to tell his own story he also wanted people to become aware of deeply-imprinted racism that people of color have to endure from white people.
The truth of the matter is that microaggressions can be direct or indirect. How someone behaves towards someone else from a minority group is how one can tell that they are prejudiced. You don't just have to wait to hear someone utter the N-Word for you to know that they are prejudiced.
White people who are racist need to be openly called out when they deliver microaggressions. Most of them want to appear good and tolerant so when they are openly called racists, it scares them. It spoils their self-image. It's the only way they will realize that they might have unconscious intolerance and biases that hurt people of color.
When some of these things like what Tana has been doing to her fellow Black YouTubers happen, some people might say that it wasn't racist, probably rudeness. The thing is, subconscious feelings of bias towards a person of color is what it is – microaggressive… hence racist.
Now that we have explained in depth who is Tana Mongeau, visit Love is All Colors for more celebrity controversies.
Responses to "Tana Mongeau on being racist in the past"
Be the first to leave a comment
You must be logged in to post a comment.