Simone Biles says she got mistaken for a child on a recent flight, days after becoming the youngest person to receive the Presidential Medal of Freedom
Posted by Leticia, 12 Jul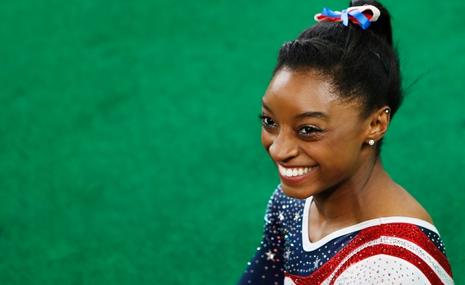 While many of us are obsessed with Simone Biles and everything she does, there appears to be a few people in the world who don't even recognize her – despite her four Olympic gold and 19 World Championship gold medals. (Among many, many others!)
The 25-year-old gymnast – who holds the title of being the most decorated gymnast in the world, and stands at a very petite 4'8" – took to Instagram to reveal that she actually got mistaken for a child when she recently boarded a plane…
Find your soulmate on InterracialDatingCentral










She went on to say that she was even offered a coloring book to keep her busy during the flight! Yes, really!
Alongside a picture of herself sitting on the plane, Simone wrote: "Not the flight attendant trying to give me a coloring book when I board.....I said 'no I'm good I'm 25.'"
We hope Simone saw the funny side!
And it's not just gymnastics medals that are filling up Simone's (we assume) overflowing trophy cabinet, as she has now also added the 2022 Presidential Medal of Freedom, which she received from President Joe Biden earlier this month, to it too!
According to The White House, the athlete was honored not only for her gymnastics but also for her advocacy for "athletes' mental health and safety, children in the foster care system, and victims of sexual assault."
Responses to "Simone Biles says she got mistaken for a child on a recent flight, days after becoming the youngest person to receive the Presidential Medal of Freedom"
Be the first to leave a comment
You must be logged in to post a comment.