How to Take Advantage of Your Interracial Relationship Perks
Posted by James, 20 Mar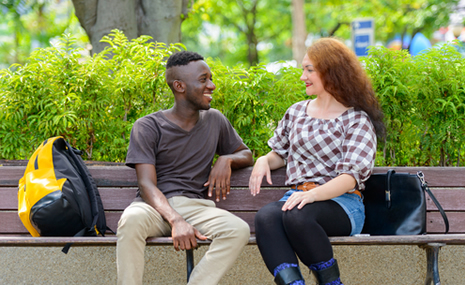 "Interracial marriage is a type of exogamy that involves a partner from a different race"
A person should look toward himself before looking to others and judging. This fact forms the basis of interracial marriages which have increased in number over past 3 decades. According to recent stats published interracial marriages have increased 10 times in the past 30 years. It clearly indicates that tying the knot interracially has taken a huge positive turn. It is obvious that people see the upsides of interracial marriages which definitely outsmart downsides completely. The most important causes of interracial marriages are:
Find your soulmate on InterracialDatingCentral










Common interests

Entertainment interests

Attractiveness

Socioeconomic connections
To delve deep into the subject, the following are some advantages of interracial marriages
1. Exploring other culture
In case your spouse has strong family traditions, it opens doors to the new world. You come to know about family values, bonding and cultural differences very closely. Learning is the most important aspect of interracial marriages. You meet new people and enhance your social bond and share common interests. Exploring other culture can be a once in a lifetime chance for average people but not for you.
2. Increased options
Interracial marriages always increase settlement options for you. For instance, the option of settling in another country is something every person does not have. A new country not only opens new doors of opportunities but also increase your well-being. If things are not working out for you in your homeland you can plan on moving and settling at a new place for a new beginning.
3. Cultural adaptation
Interracial marriage means mixed children and this fact is simply out of this world. As compared to normal children these are universal in nature in the way they look and appeal. These universal children can adapt to any environment easily. They are genetically culturally enriched. Confidence is another important key which these children possess.
4. Strong relationship
Such relationships are very strong and the fact that interracial marriages are growing in number with every passing year supports this claim. Much as there are a lot of differences, there is bonded love, care and affection . Though some people are of the view that the interracial marriages aren't worth it, the fact of the matter is that most relatives and close friends of those in interracial relationships may disagree.
5. Getting out of the box
These relationships don't limit you to people of one race which definitely gets you out of the box and your comfort zone to try new things. Starting new relationships and meeting new people will allow you to learn new languages, cultures, differences and similarities if any. The point to ponder is: Why limit yourself if you are in search of true love?
6. Interracial marriages are always interesting
Coming from different cultures and countries keep things interesting for you and your spouse. You are never out of options or communication stuff that is important to get things on. Different history, childhood and culture gets you through rough situations and such partners always support each other through thick and thin.
Responses to "How to Take Advantage of Your Interracial Relationship Perks"
Be the first to leave a comment
You must be logged in to post a comment.