Honoring Loving Day
Posted by Leticia, 06 Jun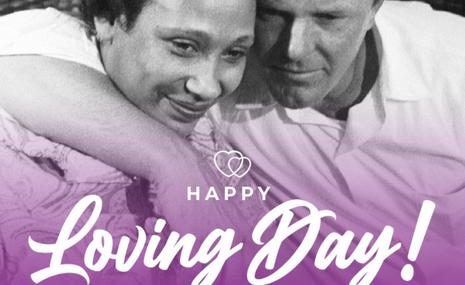 What is Loving Day?
Loving Day is the anniversary of the historic Supreme Court case legalizing interracial marriage.
Find your soulmate on InterracialDatingCentral










June 12th is a date to be celebrated and embraced, and it's a day of education and coming together as a community.
What happened on Loving Day?
The freedom to marry or not marry a person of another race resides with the individual and cannot be infringed by the state.
It's hard to imagine a time when being in an interracial relationship was illegal and punishable. But this was the reality for citizens of America before 1967. Then, on June 12th, 1967, the Supreme Court legalized interracial marriage in several states where it was banned.
Mildred, who was Black, and Richard, who was White, were childhood friends, and over their years, their friendship developed into love. On Mildred's 18th birthday, in 1958, she got married to Richard in Washington, then later after they returned to their hometown. Unfortunately, the couple didn't know that interracial marriage was illegal in their state, and the authorities arrested them. The couple pleaded guilty and promised to leave Virginia.
The couple would move to Washington D.C., but they put up a fight for their rights. Finally, Richard and Mildred decided to take legal action and wrote a letter to Attorney General Robert F. Kennedy. The case was seen by the American Civil Liberties Union and brought to the Supreme Court, and the ruling ended up being in the Lovings' favor.
After winning the case, the couple would move back to their home in Virginia, where they would settle down with their kids. Their love proves that you should fight for something if you believe in it. The couple fought for their right to love whoever they wanted and won. Thanks to Mildred and Richard, millions of Americans can now love and marry whoever they please.
Loving Day hadn't been celebrated until decades after the case. In 2004 Ken Tanabe came up with the idea to celebrate this historic day since he grew up in an interracial family with a Japanese father and a Belgian mother. He launched the holiday hoping that Loving Day would bring the community together and give hope to interracial families worldwide.
Statistics
3% of newlywed couples in the U.S. were married to someone of a different race in 1967

17% of all newlywed couples in the U.S. were married to someone of another race in 2015

11 million people intermarried in 2015
Celebrate Loving Day with the world!
People worldwide celebrate Loving Day every year on June 12th, either in personal or public ways. Even though everyone should celebrate this memorable day, regardless of their relationship, it can be incredibly emotional for interracial couples, multiracial families, mixed race, and transracially adopted people.
Many people like to share pictures and stories on social media with the hashtag #lovingday, trended three times. Others enjoy inviting their community, friends, and family to events to honor this special day.
Let's keep Loving Day alive
One of the best ways to support Loving Day is to embrace the day and include it in your traditions.
If you feel like it, you could also make a donation (of any size) to the Loving Day organization!
Show your Loving Day support
Whether you're in an interracial relationship or not, you should always celebrate love. Love comes in different shapes and sizes and should not be restricted to anyone.
"Loving recognizes no barriers. It jumps hurdles, leaps fences, penetrates walls to arrive at its destination full of hope."
-Maya Angelou
Facts About Interracial Relationships
Interracial relationships are becoming more common; it may not be a supreme solution to racism, but it sure does help the cause
The young generation doesn't see color differences
Younger people are more likely to date someone of different ethnicity and race
Once you mix, you can't unmix
People who have previously been in an interracial relationship stated that they are more likely to get involved again
There's going to be judgment
Even though interracial relationships are more common, there are still people judging these relationships
Interracial relationships are fun
One of the best things about being in an interracial relationship is all the different knowledge and experiences you get out of it
Our Interracial Dating Site supports Loving Day
We support any cause that has to do with uniting people. Our website is not just an online dating site; it is a safe community where people from different races and ethnicities can come together. We break racial boundaries because a person shouldn't be judged by their skin.
Responses to "Honoring Loving Day"
Be the first to leave a comment
You must be logged in to post a comment.