Healthy yet Fancy Dinner ideas for your next home date
Posted by Nalini, 23 Dec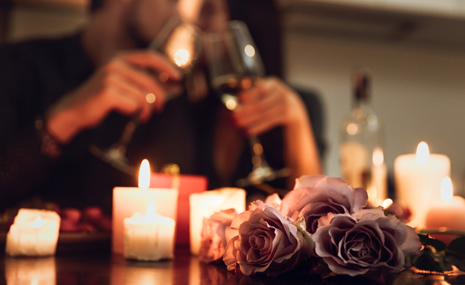 There are quite several fancy dinner ideas that you can try out at home. These days, you don't need to get all fussy trying to make fancy dinner reservations. Whatever the occasion, be it Valentine's day or just a simple date night at home, you can always whip up something healthy and yet delicious for your special someone. Some of these romantic dinner recipes are so easy to make, leaving you energetic enough to enjoy your meal. Also, seeing as they are healthy, you probably won't be too full to get down afterward.
Love is all Colors brings you some romantic dinner recipes that will wow your significant other. From romantic Italian dinners to romantic seafood dinner recipes, read on as we bring you some of the fancy romantic foods we recommend for your next date night... And don't forget the wine...
Find your soulmate on InterracialDatingCentral










Romantic dinner recipes
Sautéed salmon served with citrus salsa
If you are looking for light, healthy, fancy dinner ideas, then this is the kind of dinner to consider. This speedy salmon dish is one of the perfect romantic seafood dinner recipes for the holidays as it is filled with rich stews, braises, and roasts.
The citrus salsa us meant to cut through the fattiness of the salmon. Now, to spice up the salsa, add some chopped tart-crisp apples and a seeded minced jalapeño. Alternatively, you could go try our some diced ripe pear and pomegranate arils.
You can also tweak it by serving it with some cilantro quinoa with pine nuts.
Fennel & shrimp fra diavolo
This is one of the romantic Italian dinners. This healthy Italian pasta recipe can be perfectly paired with a  spicy, garlicky tomato sauce. If too much heat isn't your thing, you can reduce the amount of crushed red pepper when making the dish so that both you and your dinner date are comfortable. It goes well with s green salad and a red-wine vinaigrette or some sautéed green vegetables. How's that for healthy?
Meatballs in miso noodle soup
What dominates this soup is the salty, savory miso. Miso is also great when used in dressings and marinades as well. To make it great, add some spiked pork meatballs to the soup. As an alternative to the meatballs, shredded rotisserie chicken breast or cubed tofu will also work perfectly.
Tuna spring rolls served with pineapple dipping sauce
Look for some rice paper wrappers for your tuna rolls before hand. These can be found on the Asian food aisles. Then, of course, there is the tuna. The ones recommended are the yellowfin tuna caught off the U.S. Pacific coast. If you can't find tuna, you can subsidize it with cooked shrimp. You could use the pineapple dipping sauce as a glaze.
Sprucing up the place for fancy dinners at home
Before we even get to the fancy dinner ideas, one word that needs to be a focus keyword is "FANCY". So before you even think about the meal you are going to prepare, you also need to touch up your place to make it go with the fancy theme of the evening.
With Valentine's day coming up, the dinner definitely has to be the highlight of this special day. Even if it is just something as simple as a romantic breakfast for two, always remember to set the mood. Well here are some ideas for setting the mood so that will let the romance flow naturally...
Lantern walkways
You can transform your home into something fancy by simply having lanterns lined up along your pathway setting the mood for an intimate evening at home. This is one of the great romantic welcome home ideas. Imagine how your significant other will light up just by walking through this serene atmosphere. This will make them realize just how much they were missed and how thoughtful you are.
Make the room cozy
Ensure that the room you are going to have the dinner in is as cozy as possible. Turn down the lights and get some fancy candles to flicker around the room.
Get the playlist right
Make sure you go through your playlist for the evening and line up music that resonates with the mood of the evening... romance... nothing else. Great sensual music will definitely go well with your elegant dinner menus ideas. So choose tracks that are soft enough to allow both of you to focus on the conversation. Mix it up a little. Do some instrumental music and some tracks with lyrics in between.
Spice up your bedroom
The fancy dinner won't be complete with that draggy duvet on your bed. If for instance, you are looking for homemade anniversary ideas, then one of the things you can do to bring the evening together is laying some rose petals on the bed. If its Valentine's day, incorporate some red in your decor.
Go for neutral scents when buying your candles for romantic evenings at home.
Follow the above home fancy dinner ideas and you will never fuss again about getting a table at your fancy restaurant again.
With Valentine's day around the corner, read this article on how to make an unforgettable Valentines Day dinner at home.
Responses to "Healthy yet Fancy Dinner ideas for your next home date"
Be the first to leave a comment
You must be logged in to post a comment.