Dating white women in the modern world
Posted by James, 07 Jun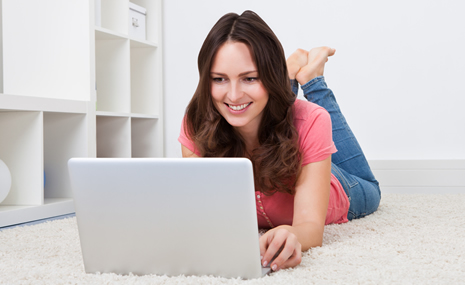 Today, dating white women has become easier than it was before. We now have the internet and technology which has made men of other men be able to connect with white women from anywhere. You can randomly find love online. Three or four decades ago, people had to go out to meet people. And they had to use their friends and their social circles to vet their potential dates. Imagine bumping into a stranger and having to round up your friends to come to meet them just so they can give you a thumbs up on whether to go ahead dating them. To be honest, those were tough dating times. Times have changed. And so has dating white women.
Can you imagine living in a black community and your dating preference is white women? Where did these men even begin? The ones who managed to meet white women must have been pretty lucky, don't you think? Lucky for us, we have it easier. So how is dating like for white women and men of other races these days? Read on and see how the dating dynamics have changed...
Find your soulmate on InterracialDatingCentral










How white women black men dating is today
For those of us who have lived in the world of online dating, it is hard to even imagine how things were those days. Imagine a black man seeing a white woman walking on the streets, there is an instant attraction and he decides to run down the streets to ask her out. And those were days when prejudice was pretty high. I can only imagine the woman screaming in terror. How do you even begin following a stranger down the streets to ask them out without appearing creepy or being called a stalker or a thief? Black man interracial dating must have been really tough those days.
We need to count ourselves lucky today. People are more open to dating outside racial lines. There is less prejudice. And thanks to technology, we live in a world of online dating and there is a rise in interracial dating sites for black men interested in dating white women. How great is that? No more looking like a freak when searching for love. Things are easier today. Then again, some might argue that they are harder. Well, let us explore this further...
How online dating has changed white women black men dating
Gone are the days when white women had to wait for a black man to leave them their number at the bar or coffee shop. These things rarely happen these days. With online dating, things are pretty different. Just like men, women are actually taking the initiative and have decided to be in charge of their dating as opposed to the days when asking a man out was considered taboo. So this has also made it easier for black men too... Here is how...
Accessibility to thousands of white women
Whether you are a black man living in an all-black neighborhood or not, that doesn't matter anymore. There are thousands of white women on interracial dating sites who are searching for love. Do white women like black men? Well, you need to be on an interracial dating website to believe that they do. And you know what's great? Accessibility. All you need to do is just register on such a website and you will have access to white women. No more sitting at the bars hoping to meet one. No more running down the streets after one only to be rejected in front of everyone or be mistaken for something you are not.
Now one thing that has given black men an edge when dating white women is the fact that online dating puts black men in contact with more white women than ever. Online dating has put black men within arm's reach of thousands of white women. So if your preference is that blonde or brunette, head on online. Your chances of dating one are higher. Plus white women who are interested in dating a black man are well aware of this fact. Plus, with online dating, one can cast a wide net, thereby increasing the chances of meeting someone to date. It is the world of instant access to lots of potential mates.
Dude! It is 2019. If you are still trying to meet a woman at that loud club where she has to scream on top of her voice to introduce yourself, you are losing out. Plus, there is no guarantee that you will ever see her again after all the effort of buying drink after drink just to get her number.
No need to worry about prejudice
You need not worry yourself with questions like: Do white women like black men or Why white women like black men. On an interracial dating site, white women are there because they want to date interracially. So you won't be rejected for sending her a message. If a person doesn't respond, they probably have other reasons like, maybe you just don't click personality-wise.
The beauty about looking for someone to date on an interracial dating website is that while you are filling out the profile, there is the option where you can state the dating preference of your preferred mate. So white women who want to exclusively date black women can check the box of the race of the preferred mate as "black men". As a black man, you should also say that you are interested in dating white women. This way, you will be paired to your preferred potential mate without fear of being rejected based on skin color.
Take the example of Interracial Dating Central. When you visit the site, you will find a link that will take you to white girls dating black guys. All you need to do is follow the link and you will have access to a huge database of white women dating black men. It is that easy.
Women are taking charge of their dating lives
The days of waiting for a man to ask you out are long gone. In this age of online dating, no one wants to pay for a membership subscription just to sit there. Women are no longer waiting for men to make an effort. Plus, with people having access to member databases, the competition is high. So white women and women of other races are stepping up their dating game in order to stand out.
This has made dating white women become easier. Now, even the dude who is a bit reserved or scared of being rejected by women finds his inbox full the next time he logs in. Every one is casting a wider net. Every woman is working on their dating profiles in order to make them stand out. That is our dating world today and it applies to white women who are looking to date black men. So for the black man, this makes meeting that white woman much easier.
People have options
Black men now have options. It is not like before where it was taboo dating someone from another race. It is not like before when people from the black community would frown at a man who had a white woman by his side. People rarely use the term trophy wife. The thing is, interracial dating is more acceptable within our societies. So, white women and black men have options and the freedom to date whoever they want.
Plus, online dating also gives people a wide range of options to choose from. So even white women who have never dated black men often find themselves in black-white relationships. All it takes is just great online chemistry and personal connection and before you know it, we have another interracial relationship to add to the existing ones.
All that being said, no matter how busy the white woman or black man is, meeting online is the simplest way to get a date. And online dating also gives people options in terms of age. Now, white women are known to be less conservative. So age to them isn't an issue. Regardless of age, white women will always be into you so long as there is a genuine connection. The thing is, all these women are looking for a man to date and love. So in this new modern age of dating, as a black man, all you need is the confidence to hit that inbox.
Now the great thing with online dating is that you can talk to as many people as you like. So when looking for a white woman to date, talk to multiple ones because the options are available for you until you find the one who makes you happy.
Still wondering why white women like black men?
The thing is, looking at online dating statistics, it is been easier for black men to date white women. We can't really pinpoint why. There are so many reasons that have been cited. Most are generalizations and very stereotypical. For instance, white women love black men because they are athletic. Here is another one - They like them because they are well endowed. Some feel there are more white women dating black men because white women are more aggressive and less conservative and they always go for what they want. But there these two reasons that I always think to be true. Physical attraction and love. If dark skin tickles your fancy, it makes sense for a white woman to look for a dark-skinned man on an online dating site even if she will be dating a black man for the first time.
The numbers don't lie...
For years black men white women relationships have been on the rise. So if you are there questioning the love that white women have for black men or vice versa, look at the numbers and results from various surveys and studies. As per most online dating surveys, this is the most common combination. Then there are the success stories that we have. Whatever the reasons for these interracial connections, the thing is, they are happening. Celebs are doing it! Everyone is doing it! The simplest and fastest way for black men to find white women to date, no matter how busy they are is online. So all you need to do to start dating a white woman the modern way is to get online. Use all the communication features provided. Be proactive. Within no time, you will find the one you connect with.
Well, if you want to know how love and attraction can drive people to make crazy decisions, read this article about a white man wanted to leave his wife to date black women. Don't forget to give your opinion!
1 responses to "Dating white women in the modern world "
Leave a reply
You must be logged in to post a comment.