Analysis of desire: Don't Black men and Asian women desire one another?
Posted by James, 20 Jan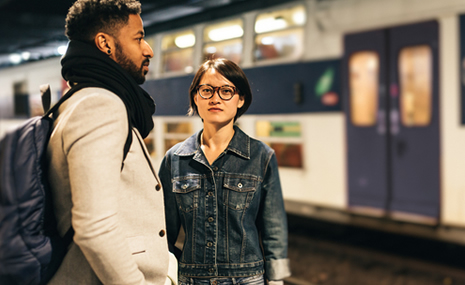 Generally, Black men and Asian women are by far the two racial groups with the highest number of interracial marriages. And the reason for this (as racist, subjective and stereotypical as it may sound) is that Black men are perceived to be physically attractive by women of different races; and the same goes for Asian women who appeal to men of various race. That is why you will notice a lot of Asian women are into interracial dating rather than dating within their own race.
Black men possess some unparalleled masculinity and athletic bodies that all women consider an attractive quality for any man to possess. On the other hand, Asian women have femininity and exotic features which are desired by men of all races. So for the pure reason of physical attractiveness, Black men and Asian women seem to spark more interest from women and men of different races – especially Whites.
Find your soulmate on InterracialDatingCentral










Since these two groups are soooo desirable, you'd expect a mutual physical attraction between one another right? But on the contrary, the number of Black men Asian women couples remains small – an indisputably tiny potion of 2% of all interracial marriages of U.S. residents. So does this mean the most desired groups by all races find each other least desirable?
Some analysts think Yes! Apparently, East Asian women for example don't discriminate against White men (being the reason for the high numbers of Asian women White men relationships) but they do discriminate against Black men. So they show less interest in them. Others say the match between Black men and Asian women is rare because the Asian woman does not fit the Black man's ideal beautiful woman.
Is the reason behind the desire to be with one another purely based on physical attraction? Is there more behind the discrimination of Asian women against Black men (if the allegations are true that is)?
26 responses to "Analysis of desire: Don't Black men and Asian women desire one another?"
Leave a reply
You must be logged in to post a comment.