A$AP Rocky says he wants to teach his and Rihanna's son to be "open-minded" and to not "discriminate"
Posted by Leticia, 01 Jun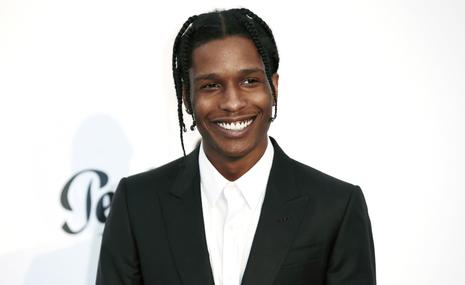 A$AP Rocky has finally opened up about his newborn son, revealing that he wants to raise him to be "open-minded" and teach him from a very early age not to "discriminate" against anyone!
The Praise The Lord (Da Shine) rapper spoke about the son he and Rihanna welcomed on May 13th – whose name has not yet been shared with the public – in a recent interview with Dazed…
Find your soulmate on InterracialDatingCentral










"I hope to raise open-minded children. Not people who discriminate," the 33-year-old musician – real name Rakim Mayers – told the mag.
"And I'm not trying to describe a saint, but realistically, I just want a cool child with cool parents."
(The 34-year-old Fenty founder is his mom, so he's ALWAYS going to have at least one cool parent! Are we right?!)
"Things like diversity and versatility are important, and they'll be embedded in the household," he added.
We assume the Babushka Boi rapper wants to rectify some of his past thoughts and actions, as he previously admitted to being "homophobic" many years ago…
"I used to be homophobic, but that's f***ed up," he said in a 2011 interview with Pitchfork.
"I had to look in the mirror and say, 'All the designers I'm wearing are gay.' I hear stories about all these industry mother****ers who are gay, and I don't know if it's true or not, but that s**t don't matter. It's so immature."
Two years later, he brought up the subject yet again, telling New York Daily News that he gets "upset" when rappers use homophobic language in their music…
"For instance, one big issue in hip-hop is the gay thing. It's 2013, and it's a shame that, to this day, that topic still gets people all excited," he said at the time.
"It's crazy. And it makes me upset that this topic even matters when it comes to hip-hop, because it makes it seem like everybody in hip-hop is small-minded or stupid — and that's not the case.
"We've got people like Jay Z. We've got people like Kanye. We've got people like me. We're all prime examples of people who don't think like that."
We think baby Meyers/Fenty will have a great head start with his dad's new attitude!
And let's not forget that his mom has been an LGTQIA+ ally from the very start of her career! Just last year, she joined forces with GLAAD to launch the first-ever Pride collection for her Savage X Fenty lingerie line.
Responses to "A$AP Rocky says he wants to teach his and Rihanna's son to be "open-minded" and to not "discriminate""
Be the first to leave a comment
You must be logged in to post a comment.