Winter Makeup Tips for the Cold Days Out
Posted by Tim Levin, 09 Jan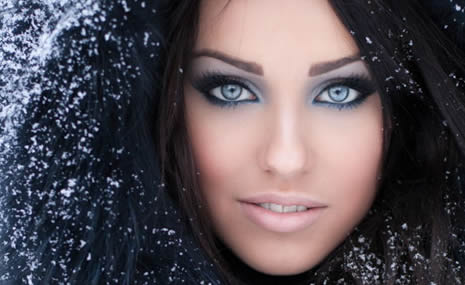 Looking for the most must-try stunning winter makeup looks and trends that most professional makeup artists recommend? Click here and check out what we love.
Must-try stunning winter makeup looks
Find your soulmate on InterracialDatingCentral










Almost every winter has seen me asking myself, "What kind of makeup should I wear?" This is because winter's cold, dry air cares less about your skin. Our skin often can't stand the harsh conditions that come with this season. Despite this, you can look stunning with the right winter makeup that is available on the market for different skin tones to give you the best winter glow on cold days out.
I have always loved winter eye makeup, and I know many of you do. This article will be taking you through our best winter makeup looks and some makeup do's and don'ts you should remember.
Dark, bold lips
Dare winter with bold burgundy, maroon, or dark brown lip colors. These lip colors make a resounding statement irrespective of the occasion.
It is better to keep the rest of your makeup as natural and as neutral as possible since you might not like winter makeup colors that are too bold. Pairing the dark lip colors with bold shadows that have dark hues will be a bit too much. But if you don't mind the overpowering look, you can wear them together.
Makeup artist, Tom Pecheux ascribes to this, describing dark lip tones as being "sophisticated" in their own way.
Stay away from matte lipsticks. On an already flaky, dry lip, they'll look blotchy and ugly. So, exfoliate your lips and apply creamy lipsticks.
Smoky, dramatic eyes
Winter makeup colors for the perfect winter eyeshadow looks include dark purple, dark brown, navy blue, burgundy, black, copper, light shimmery pink, rose gold, gold, and silver. Winter makeup is all about trying out darker tones on your eyes and lips. So, you can go all the way and be as dramatic as spring and summer would never allow.
Celebrity makeup artist, Tobi Henney is very particular about smoky eyes with navy blue tones. She incorporates these into her winter makeup looks.
Sparkly, smoky eyes give a chic look that is appropriate for an unending list of occasions. Bright eyes are often accompanied by neutral lips. However, you can ignore the winds and be as shouty as possible with your look.
Always apply the dark hues onto the middle and outer corners of your eyes and the light hues on the inner parts of the eyes. Whatever you go for just keep the eye colors well blended.
One of the winter eyeshadow looks that look amazing on almost anyone is a mix of colors to achieve a well-blended 'onion hue' to go with eye-catching burgundy lips. It's a must-try winter look for all well-moisturized skin types.
Glossy Lids and Lips
Winter air is notorious for flaking and cracking our lips. This can be prevented with lip gloss, thanks to the various shades in which they are available. You can avoid these cracks with a glossy finish to your lip look. Glossy lids also go well with the glossy lips. When using moisturizers on your skin, always use an eye cream to keep your lids hydrated too.
Makeup Dos
Moisturize your skin
To achieve a glowy look this winter, moisturize your skin as much as possible. Its importance cannot be overemphasized. This will boost your skin's natural tone and glow.
Makeup artist, Erwin Gomez, suggests that you moisturize your skin while it's still damp while Marina Gravani recommends that you moisturize before getting in the shower so that the steam gets the moisturizer deep into your skin.
Hydrate your skin during this cold season by applying your moisturizers as frequently as possible.
Use a hydrating primer
With a hydrating primer, your foundation will look a lot better. Before priming, use a toner to remove as many flakes as possible. It will help even out your skin.
Dampen your beauty blender
With your damp beauty blender, press foundation onto your skin to cover whatever flakiness is left. Do not rub or drag the blender over your skin as this would only worsen the condition of your skin and give you a blotchy, uneven finish.
Get your blush on!
Blush warms up your look, giving you a certain rosiness that the cold seems to sniff out. It revives your washed out face and awakens your pale skin.
For the best winter look, apply a little blush beneath your cheekbones and blend it towards the cheekbones.
Makeup Don'ts
Avoid matte products
In warmer seasons, matte products work wonders by keeping your skin as dry as possible. But, the opposite is needed in winter. Matte products will only further highlight your already flaky skin. Therefore, use liquid or cream foundation that will serve as the perfect base and give you a stunning, even finish. If the weather is too dewy, you can always apply some setting powder, especially in the t-zone areas of your face.
Avoid powder highlighters
In place of powder highlighters, you should use liquid highlighters.  A perfect combination of the right products will give you a fine makeup look despite the harsh weather.
Take note of the above makeup do's and don'ts and always use the makeup that is recommended for your skin tone. Whatever look go for, stay stunning this winter.
You can read more makeup tips on Love is All Colors.
Responses to "Winter Makeup Tips for the Cold Days Out"
Be the first to leave a comment
You must be logged in to post a comment.