Why You Should Consider Joining Goth Dating In 2019
Posted by Robert, 19 Feb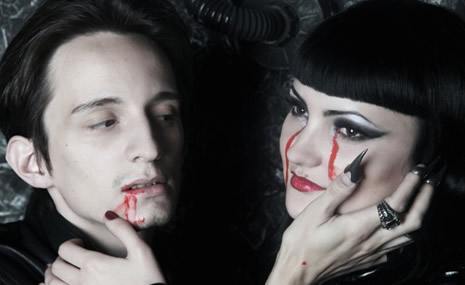 Goth dating can be very refreshing for individuals who want to date someone who is true to themselves and their individuality. Read on to find out more...
Reasons why you should have a Goth girlfriend
Find your soulmate on InterracialDatingCentral










They are eccentric. They choose to be different and have proven that dark and morbid are the new standards of fairytale romance. Goth dating is gradually taking over the contemporary dating scenes, and it's not hard to see why. For starters, dating a goth girl is a sure way to experience romance from a whole new, different perspective. This is because they have different interests, knowledge, expectations, experiences, and emotions.
Goth dating isn't really a new thing anymore. You can search the internet and get a goth dating site to help you find the perfect goth partner/date or even give you tips on how to attract a goth girl. In the spirit of the upcoming world Goth day, Love is all colors has come up with reasons why dating goths should be next on your list of romantic adventures for 2019. Here they are...
She's got a mind of her own
A goth girl has a mind of her own and is not afraid of what the world thinks of her or how you perceive her style because she believes she's doing her. Now, we know finding a girl who truly believes in something is hard to come by these days. But with a goth girlfriend, it's certainly an enchanting quality in a world and age of self-conscious girls.
You already know who you're dealing with
Dating a goth girl takes away those initial weeks of raking through learning about your girlfriend's likes and dislikes. When you are dating a goth girl, you already know who she is and all about her lifestyle. Hence, there is less awkwardness in the relationship.
You become part of a new family
Goths are a whole new massive community on their own. They aren't separatists. But as their beliefs suggest, they form an entirely new community of like minds in a society still intrigue by what they represent. Dating a goth girl instantly makes you part of that family. There's absolutely nothing to be afraid of. They are really fun to hang out with.
Shopping is made easy
Unlike the confusions and considerations associated with dating a regular girl, with a goth girl you are simply dealing with everything black. Wow isn't that a relief? At least you won't have to wonder whether the pink purse is the right match for the silver shoes you picked out for her. You can simply tell the attendant to pick out all things black and ancient. That's one of the greatest perks of dating a goth girl.
Get to change your music style
From Marilyn Manson to March Violets, Slipknot, Asking Alexandria and Banshee, there's a whole lot to the world of music and art ready to be explored when in a goth relationship. Just as they have a unique sense of fashion, goth girls are huge into old music and hard rock (and yes, there's a high probability you will start loving it too.)
Enjoy true openness
Generally, goths are very liberal and open-minded individual. They are genuinely free and open to all issues of life. Now, maybe you've had issues with genuine openness in your previous relationships. But with a goth girl, you are sure to know what's on her mind at any instance.
Also, dating a goth girlfriend goes beyond getting aquatinted to an awkwardly dressed young lady because they have very influential personalities and would go to any extent to help you rediscover yourself.
New sexual experience
Goth dating comes with a lot of perks like I stated earlier, and different sexual experience is one of them. They do not conform to society's norm of what a sexual experience should be in terms of sexual communication, demeanor, and action. Kinky and dark sex is something you might want to experience.
You stop getting fixated on the stereotypes
Our world of today is full of lovers who are fixated on what they think the society wants. Yes, we know these things have been the standard for ages. But what's wrong with a little change? What's wrong if you and your partner don't want to do what everyone else is doing? When dating a goth girl, you are constantly reminded of the fact that society no longer influences what happens in your relationship.
Be part of something different
If you are tired of the usual thing, why not try unusual. Although goth dating and having a goth girlfriend isn't really as usual as it sounds, at least it's a breath of fresh air from the dark cloud of dating regular girls. Personally, I'll take my chances at something new and unusual than having a repeat of previous boring experiences with basic girlfriends.
Achieving dating success isn't really determined by whether your girlfriend is a goth or not. Its all about the ability to understand and respect each other's beliefs, boundaries, lifestyles, and personalities. Most relationships hit the rocks because the 21st-century couples fail to understand the importance of reciprocal respect in a relationship. I strongly believe if couples are able to understand and respect each other's beliefs and lifestyle the modern day dating scene will definitely experience positive change.
Read some of the tips that will ensure your dating success in 2019
Responses to "Why You Should Consider Joining Goth Dating In 2019"
Be the first to leave a comment
You must be logged in to post a comment.