Why some porn stars draw the line at interracial sex.
Posted by James, 06 Mar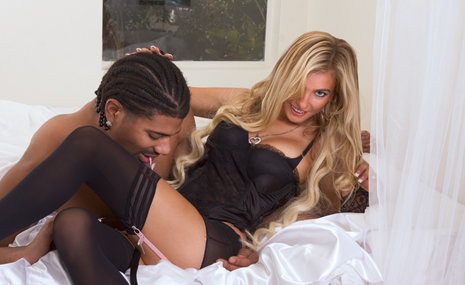 When porn star Aurora Snow was asked by his agent whether she "did interracial" when she was trying to penetrate the adult-film business 12 years ago, she was puzzled by that question. So the agent, an old man clarified it for her:"Do you do black guys?" She admits that the question to her felt very racist.
Well, apparently, "when it comes to things they won't do on camera, a surprising number of adult-film stars draw the line at interracial sex." Last month, TMZ pointed out that out of the more-than-100 adult films award winning porn-star Alexis Texas (pictured above) has been in, she has never acted with black guys. Texas refused to comment on these allegations.
Find your soulmate on InterracialDatingCentral










"One reason for some actresses' reluctance might be size. Because of the way porn is cast, most black male performers have disproportionately large schlongs. The sheer size of these guys can be intimidating. I know one male performer who is as big around as a soda can. (I refused to work with him, afraid of his size, at the beginning of my career.)" Snow confesses.
Given the fantasies about interracial sex most consumers hold, you'd expect most agents to advice their girls to do more interracial acts. But surprisingly, the other reason behind the taboo is that their agents advice them against it saying it would ruin their careers and most agents who give such advice are usually older white men. Apparently, if a girl wanted to lengthen her career, "she should start off doing solo work, then begin shooting with girls, move on to doing nonblack men, and then go into interracial or anal. A current myth, alluded to in Kanye West's song 'Hell of a Life,' is that directors will pay a girl less once she has shot interracial scenes."
Some agencies agree that only a few of their girls would agree to interracial films. On the other hand, Spiegler Girls claims 75% to 80% of the girls agree to shoot interracial scenes. One actress Kristina Rose believes if she hadn't taken her agent's advice about NOT doing interracial acts, she'd probably have won Performer of the Year because most of the girls who won started out doing interracial.
Mark Spiegler of Spiegler Girls thinks that some girls still decline to do interracial because they think their families wouldn't like them doing it. Some of the girls he has met on set "thought their families would be more OK with finding out they did porn than finding out they did interracial porn." Tee Reel, who runs Ideal Image Management, isn't offended when a girl refuses interracial. "As a black man, I don't take it personally when a girl says, 'I don't wants to do interracial.' In the business, some girls who say they don't do interracial I've actually had sex with off camera," he says.
Does this mean the porn industry is racist? Are the agents who advice their girls against it racist?
It's hard to say exactly how much racism there is in the adult-film business; or society for that matter. For one, this is a story about white female porn stars. Do the black female porn stars have reservations too? Do their agents advice them against it too?
One thing for sure is that performers, directors, agents, and companies are using the stereotypes that surround race and sex that their consumers hold to make the most money in the industry; for instance, the usual portrayal of tiny white girls with big black men. It's a popular marketing strategy; giving the consumer what he wants and demands.
2 responses to "Why some porn stars draw the line at interracial sex."
Leave a reply
You must be logged in to post a comment.