Toxic online behaviors to watch out for during social distancing
Posted by James, 13 Apr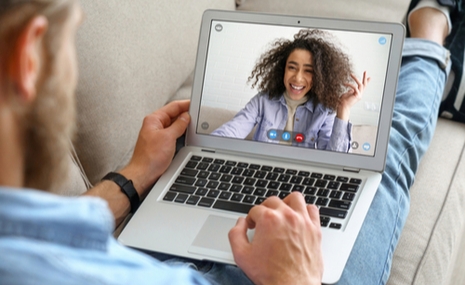 Even in social distancing love and lust has still found a way through online platforms. This has proven that 'The greatest of them is Love'. During the coronavirus crisis, Video chats are no longer just a precursor to real dates – They are the real dates.
Since online dating has been around for almost two decades, most people have accepted it as the most convenient way to meet someone. There might be a few who still remain skeptical. But with self-isolation, most singles are embracing it as a way to remain sane as well as find people to talk to both for friendship and romance. Singles have find ways to make it as online dating natural as possible.
Find your soulmate on InterracialDatingCentral










Just because the Coronavirus crisis has made people engage more online doesn't mean that they all want something serious. You need to realize that different people will use online dating for different reasons - amusement, curiosity, socialization, to find love. Trust me, there are those who will be online just because they are bored out of their minds. Then there will be¬ a few individuals who might be there just to prey on your loneliness and string you along for a ride.
Well, if you are looking for a serious relationship, here are some toxic behaviors to look out that will prompt you to walk away from a conversation that is going nowhere sooner rather than later…
Zombie-ing
They say that 'ghosting' has become today's way of dumping someone. One minute you are busy chatting with someone thinking that you have established this massive connection, and then out of the blues, they cease all communication.
One thing about ghosts though, is that some 'rise from the dead'. Now this is what 'zomebie-ing' is all about. This is when that person who suddenly cut all communication suddenly pops up into your life, carrying on like they never even left in the first place. It's they had hit the pause button and now they are resuming.
Watch of for such individuals. The thing is, if they did it before, they are likely to do it again. Much as this might not always be the case (maybe someone really has a genuine reason why they went AWOL on you), in such cases, take a moment to think things through then your best judgment.
Breadcrumbing
This is when someone gets in touch with you every now and them. Usually, they come at you with short-lived but highly flirtations communication which usually gives one the illusion that the person is interested in you.
This can be bad for someone who is looking for a serious relationship, especially if you are the kind of person who falls for flirtatious moves.
This is very dangerous especially with the lock downs. Usually, you can know someone is 'breadcrumbing' you because such people are usually hesitant to take it to the next level… to meet person.
But with these times when we don't know when it will be safe for us to start meeting people in person. So if not careful, you will keep longing for those short flirtatious messages till the day it hits you that that's all you'll ever get out of that online relationship. The problem, is, for how long?
Catfishing
This is the scariest one – FAKE PROFILE! These are the kind of people who swindle others with financially. This is the most common one now, especially now that people are going through similar experiences. We all feel a part of something. So when one feels that in these lonely times there is someone out there who 'genuinely' cares, they let their guard down and fall victim to these financial scams.
How to protect yourself from such toxic behaviors
Never ever send money to anyone you just met online, no matter the reason

Never under any circumstances give your personal or financial information to anyone you just met online

Ask for a video call first before you get into any serious information or share something personal and meaningful. They say 'looks don't lie'. This will help you gauge a person based on their body language, tone and facial expressions.

If you suspect that someone is breadcrumbing you but you are still interested in more with them, try seeking some impartial advice from friends.

Remember, much as video dates offer a truer picture of what someone is all about, remember this is not foolproof. You still need to exercise online dating safety.
Stay at Home, Stay Safe, Stay Social…
10 responses to "Toxic online behaviors to watch out for during social distancing"
Leave a reply
You must be logged in to post a comment.