The Guilt Black Gay Men Feel in Interracial Relationships
Posted by Liam, 19 Mar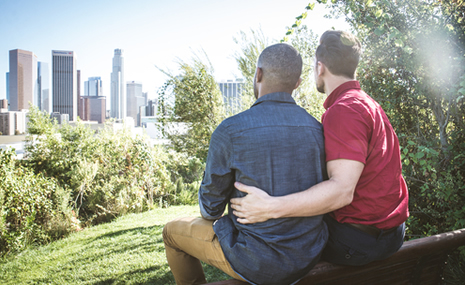 Long before researchers started digging into data on gay interracial relationships, there was social commentary.  Spike Lee's Jungle Fever showed the complexities of interracial love back in 1991.  In 1995's chick flick classic Waiting to Exhale, Angela Basset's Bernadine fumed when her husband left her for a white woman.  To this day, black women lament that they're losing all the good black men to white women.  The sentiment isn't just reserved for straight black men.  The gay ones get the brunt of that resentment, too.  Even though we're just searching for love and happiness, we're still saddled with a sense of guilt once we find it.
In these turbulent political times where many are calling the election of Donald Trump a "whitelash", black pride is important.  Black Lives Matter is a thriving protest movement against police brutality.  The best albums of 2016 encouraged us to take A Seat at the Table and sip some LEMONADE.  Now more than ever, being black is about being proud and expressing that to everyone around you.  However, there's a perception that you can't possibly be proud of being black if you don't date black.
Michael Arceneaux explored this topic in 2015 for the Washington Post.  He details how he grew up wanting to be in love with another black man.  He dreamed of a relationship with someone who understood his blackness without explanation.  They'd form a bond through their shared experiences.
Your perfect partner could be online right now...
What are you looking for?
However, as he dated, he found himself rejected by hypermasculine black men because he loved Beyoncé and publicly declared it on his Instagram page.  He started dating Hispanic men and initially felt guilty about it because he thought it negatively affected other black men.  It seemed like a rejection of them and that went against the pride he felt about his culture.  He eventually learned to accept his attraction to non-black men, which was the main subject of his essay.  But there are many more men like him who have a self-imposed guilt or feel the pressure from others to date within their race.
Even though gay relationships are relatively foreign territory in the black community, gay black men are still expected to adhere to racial norms.  We grew up seeing movies and TV shows with black couples.  #Blacklove is a viral social media sensation.  There's tremendous pressure to show your black pride not just in where you shop or what you watch or listen to but also in who you date.  And that's not fair.
It's possible to love a white or Hispanic man and still be proud of being black.  That pride is innate and doesn't evaporate because you're not sleeping next to a black man every night.  If the gay community is known for anything, it's subverting societal expectations.  For decades, we've had to create our own norms and definitions of how we wanted to live.  Black gay men should be afforded those same opportunities.  You're free to love who you want to love without feeling any guilt for it.  You can wear an afro, listen to Solange and date a white man.  Don't let anyone tell you any different.
Responses to "The Guilt Black Gay Men Feel in Interracial Relationships"
Be the first to leave a comment
You must be logged in to post a comment.