Must Haves for a sexy Valentine's night in with your partner
Posted by James, 10 Feb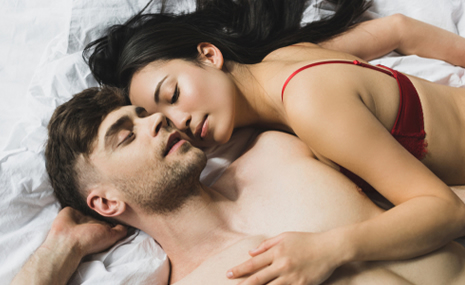 If you and your special someone find yourselves at home this Valentine's Day, you need not worry. There are many at home Valentines day ideas that you can choose from that won't require a lot of creativity and cash. Having a sexy night with your lover is actually pretty simple. You can make your day as unique as if you were to have a date at a romantic restaurant. To crown the evening, you can also set your home up for a steamy night and ignite some magic in your love life.
Well, here are some sexy Valentine Day ideas that will make Valentine's Day magical.
Find your soulmate on InterracialDatingCentral










Valentine day sexy ideas
Whether you wish to have a tasty candlelit dinner or the hot eat-it-off-my-body kind of dinner, the day should be all about how you express your love to your significant other.
If you have that special someone you wish to impress with a romantic, sexy dinner at home, you need not worry. To save you the headache of going through the internet searching for ideas, we have put together lovely, romantic dinner ideas from what to wear, what to cook, and how to set up the place for the evening. We got you covered.  So, sit back and read on before you hit the stores to shop for this special night.
Set the mood
Before you even have your dinner, you need to figure out how to set the mood. Of course, we all know about dim lights and candlelit settings. Today, let me give you tips on how to do it better this year.
Lantern walkways
It's already a lovely evening. So why not make it more alluring with lanterns lined up along your front door pathway. It gives a warm, serene outlook to the atmosphere that says the evening is all about intimacy and the two of you.
Transform your bedroom into a Valentines-themed space
The preparation isn't complete if you still have that draggy duvet lying miserably on your bed. Start by decluttering your space. Then, lay out some rose petals and add some dim fairy lights. Just keep it light and simple. Pay attention to detail. And lastly, don't forget red is the color for the evening. Incorporate it in your decor.
Get the house as cozy as possible
Of course, other parts of the house should convey the message that it is indeed Valentine's day. We can't have your bedroom all steamy with love while the living room has evidence of last week's brunch. That's a no-no. You can turn down the lights and set awesome LED flickering candles all across the living room. Do not forget to renew your Netflix subscription. You might need some steamy romance movies to get you into the perfect romantic mood after dinner.
Choose the perfect music
This is not a night to pay tribute to Adele's heartbreaking playlist. Instead, the music needs to resonate with love and nothing else. So go through your playlist and line up slow, intimate music to get the moods right. For starters, you can download some of the best Valentine songs such as: As Long As You Love Me - Backstreet Boys, Do You Realize - Flaming Lips, I Just Called To Say I Love You - Stevie Wonder, Just The Way You Are - Bruno Mars, Love Love Me Do - The Beatles, and of course, our all-time favorite, My Heart Will Go On - Celine Dion.
What to wear
Now that the house is ready, if you want to have an erotic Valentine's, the night wouldn't be complete without that stunning outfit to keep your significant other drooling over you all night. So take time to dress up for this night of passion.
Ladies, don't be afraid to go a little provocative with your outfit. Yeah, you can show some thighs but be smart and keep it moderate. Leave him wanting to see more of that... Also, anything within the various shades of red and white is best for the evening.
For the guys, it's always been a blazer affair. So let's keep it that way. I'm sure whatever you wear, she'll find you sexy in it.
The Dinner
The Valentine's Day dinner is probably the most romantic aspect of the evening. When planning for this dinner, what you need to aim for is something tasty yet not too heavy. You don't want to be too full and too lazy for the other activities of the evening... if you know what I mean (wink).
The home setting creates more intimacy and lets you soak up each other's company.
Pick a recipe that says, 'I really wanted to make this for you.' Stick to familiar flavors and seasonings.
Let's get you started on that dinner.
An Awesome Appetizer
Start your romantic Valentine's Day dinner with any of the appetizer ideas online. Of course, you could go for any type of salad that you feel suits the evening. As for me, I love the Gem Lettuce Salad with Toasted Nuts. There's always something sexy about munching on those toasted nuts. Others to consider are the  Ham and Cheese Biscuit Stacks, a Tuscan Sausage-Bean Dip, or Pretzel Bread Bowl and Cheese Dip.
The Main Dish
For at home valentines day ideas, this part is the crown of the evening. You just have to get this right. Some ideas are Engagement Chicken Pasta, Steak with Tarragon Mushrooms, Shakshuka, Avocado, and Strawberries with Honey Vinaigrette. If you have a second thought about going for any of my exotic ideas, you can go for a classic good old juicy steak. You can never go wrong with steak and salad.
If your significant other is not a steak person, you could substitute the steak with roast chicken topped with pan-roasted eggplant salad.
For Dessert
Valentines Day dinner isn't complete without a dessert. You need a little something to snack as you get ready to move from the dining table to some cuddling time on the couch. So I'll advise you to go for something creamy. Whip up some ice cream and spend the rest of the evening eating it off each other's bodies. How's that for a hot idea!
Loosen up with some wine
There is a wide variety of budget-friendly wines to choose from these days. So picking the perfect wine for the evening is easy. But here are my suggestions anyway... Banfi's Rosa Regale wine is a sweet, moderately alcoholic wine for an ideal Valentine's dinner setting.
On the other hand, who says you have to stick to a particular bottle of wine? You can make a Bellini cocktail or a French sparkle. Champagne is not exempted. Whichever drink you pick, I'm sure it will be the perfect one to get you into the mood for this special evening.
Head to the tub
Spend time in the tub unwinding together. That warm water will loosen your muscles. Plus, there is nothing as great as your skins touching each other in the tub or shower to prepare your mind for what's coming next.
If things move a little faster than planned in the tub, one of the Valentine Day sex ideas is to incorporate a submersible toy for those multiple orgasms. A sex toy is a great way to start your sexy night together.
Watch a spicy movie or play a sex game
This will definitely make your night even sexier. Bond over a movie or game that can set the mood before jumping in the sack. To hike up the flirtiness, pray some strip poker. Make sure no phones are allowed so that you can focus on each other better.
Try a new toy
One of the sexy Valentine gift ideas is to buy each other a new toy so that you can try them together. This is the highlight of our at home Valentines Day ideas. Then, do something unimaginable, like having sex somewhere you usually wouldn't. So open that wine bottle, charge your new toys and enjoy this sexy Valentine's evening and many more nights of fun to come.
If you want the perfect Valentine's evening in, keep it as natural as possible. Don't go overboard with any part of the preparations. And if you really can't cook, hire someone to cook for you. Remember, it's not just about the food. It's all about the company you. Enjoy one another. Happy Valentine's Day!
Responses to "Must Haves for a sexy Valentine's night in with your partner"
Be the first to leave a comment
You must be logged in to post a comment.