It's the most wonderful time to meet your 'holiday love'
Posted by James, 23 Dec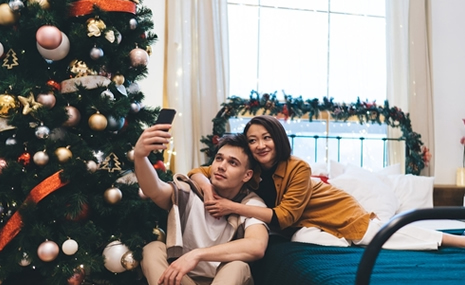 There is always something romantic and dreamy about the holidays - twinkling lights, frosty air, laughter from the people you have met after a year of being apart...
For those who are attached or just met their holiday love, everything seems to be heightened. So what about those still single at Christmas? Is it still going to be the most wonderful time of the year for them?
Find your soulmate on InterracialDatingCentral










Well, it still can be. Those who meet their 'holiday love' at Christmas, their dates are usually more exciting than you can ever imagine. If you still haven't found them, it's never too late. Plus, your single status doesn't have to remain that way at all because there are lots of fresh members who have registered on dating sites and this is usually the busiest season for online daters.
Then remember, besides Christmas, we still have New Year's and Valentine's Day holidays coming up. So all is not lost. There is still motivation to find your holiday love.
Here are a few tips...
Be where the people are - Online
One of the things I can tell you right now is that for the last month or so, there has been a surge in the number of fresh members registering on the site and a big rise in the reactivation of dormant accounts. NOW is the time to increase your chances of finding love and striking gold!
So if you start feeling like the third wheel for being amongst couples during the holidays, that is your cue to get online and chat with other singles.
Polish up on your online dating skills
We know you are busy with family as well as trying to wrap up the year. Now much as you may not have time to search for a physical date, online dating can make all this happen even in between all those exciting events and parties that you have planned with your family.
With the big numbers, online dating is boasting of right now, spruce your profile a little. Update your profile picture with a fresh one showing the fun-filled you enjoying the holidays because the holiday cheer has a way of showing on our faces too.
Out of the thousands of members online these holidays, I am sure you can find someone to cozy up to. Who knows, that person you find online and start chatting with might be your date for the upcoming holidays and the love of your life.
Don't rush it. Go with the flow...
There is no doubt that you can still find your holiday love in time for end-of-year celebrations. That said, don't move at breakneck speed just because you don't want to be alone under the mistletoe. Live for the present and let things flow. If you meet someone, let your blossoming romance take a natural flow and treat your newly-found date like you would have any time of the month.
That said, finding a long-lasting holiday love might seem like a lot of work but you know what? It's not impossible when you don't let the pressure dictate your actions. Just get online in that jolly spirit that you have, with lots of positivity and have a holiday filled with romance!
Merry Christmas!!!
Responses to "It's the most wonderful time to meet your 'holiday love'"
Be the first to leave a comment
You must be logged in to post a comment.