Is Coronavirus making online dating safer, globally?
Posted by James, 02 Apr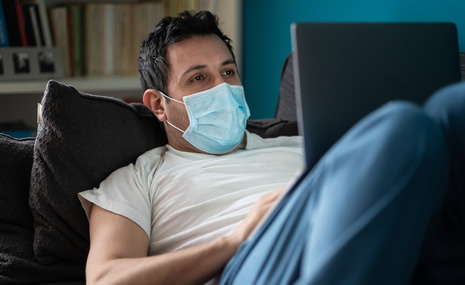 Are you feeling the effects of social distancing?
One woman texted the friend wondering if it is fatal to attempt to date someone during the pandemic.
Find your soulmate on InterracialDatingCentral










The whole world over all we hear about is the lockdown and how governments are enforcing social distancing. Physical dates are becoming something people can only imagine and wish for.
One thing that cracked me up about this situation we have found ourselves in is this New Orleans writer and actor Kaitlyn McQuin, who suggested that men should reaquint themselves with traditional ways of wooing and courting women. "Now, write a poem", she joked on Twitter.
Luckily, we don't have to go back to those traditional ways of writing and mailing love letters to our crushes. We have features that will continue to keep you safe while allowing you to have fun and even potentially  find you love.
Much as we need a vaccine against the Coronavirus, much as we need to stay safe and healthy, we'll also need love to survive.
Online dating sites are coming up with features to help us adapt during social distancing and self isolation so that we stay safe while dating.
Now that physical proximity seems irrelevant for dating, online dating sites is helping us find love in any part of the world more easily than ever before.
Video dates are now becoming the next best thing to IRL dates.  You  can read someone's body language,  gauge tone, interpret facial expressions - Looks wont lie.
Can this bring online romance scams down? Just because you can get a truer feel through video chat, remember this is not foolproof. You still need to exercise online dating safety.
We cannot overlook the positive health impact that this crisis has had on all of us. Being cut off from neighbors and the masses through social isolation has paved way for online dating experiences that are making us fundamentally safer throughout the world.
So, once we get used to these ways of staying safe will we be able to allow ourselves to trust other people when it comes to meeting someone in real life for the first time? Will we have the ability to throw caution to the wind and let spontaneity and instinct dictate our dating choices and free spirit once the virus fades.
We will definitely want to meet each other again in real life. But for now, let's accept that video dates are the norm and concentrate on cultivating deeper connections as we stay safe during self isolation.
Virtual dating will still be vital as an initial step before meeting in real life, even after the virus has been curbed.
The fact that online dating is providing users with ways to build deep and meaningful relationships during this challenging time could be the lasting positive thing we will take away from this crisis that will improve and change online dating forever.
3 responses to "Is Coronavirus making online dating safer, globally?"
Leave a reply
You must be logged in to post a comment.