How to Make a Hiking Date Worth the While
Posted by James, 20 Aug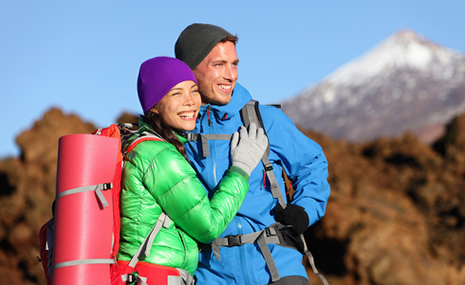 When thinking of brilliant date ideas, the first thing that pops into most people's minds is dinner at some at some fancy restaurant. But have you ever considered going hiking as a great and romantic alternative to that overpriced dinner on your anniversary or first date?
But having been used to dinners and movies, hiking will be quite a different cup of tea all together.
Find your soulmate on InterracialDatingCentral










Well, to make it worth the while for you and your date, highlighted below and some tips and ideas to assist you in making this adventure; romantic and one to write home about.
So what do people do on hiking dates?
If this is your first hiking date, you might be wondering what you can do to wow your mate or 'potential mate'. Well here are some romantic suggestions by BackPackReverse:
Hidden treasure: The day before your hike date, hide a guitar along the trail and wow them when you pluck your treasure from out behind a rock and play them a saccharine love song.

Surprise getaway: Tell your date to take the day off but keep everything hush hush. You can keep them in the dark by having them pack for three different kinds of outfits for vastly different climates (snow, desert, and rain). Then take them to an all expense paid location of your choosing, whether that be a cabin in the Sierra or a secluded, whimsical trail in the mossy forest.

Headlamp adventure: Take a late afternoon hike with some yummy food and picnic on a west pointing vantage point to watch the sun sink below the horizon.  Then throw on your headlamps and hike back to your start point under the starlight. This is an especially good option if you are crunched on time and date night falls on a work day.
Hiking gear
So what clothes should you bring on this hiking date? Well, much as its hiking, a date is still a date. So if you are planning to win someone over, then you gotta bring your 'A' game. Don't go there looking like some Nat Geo dude filming crocodiles in the wilderness.
One suggestion for spruced up functional hiking gear for both men and women is Danner. Also, remember to wear some moisture wicking apparel to keep you cool while climbing. You don't want to be all sweaty and slippery when sneaking that cuddle.
Shady sun hats are also important for this date if it's too sunny, or beanies if you are hiking in a cold area.
When it comes to booths, think flexibility. Your hiking boots should be able to handle dusty trails, jumping boulders and muddy puddles. According to Backpackreverse recommendations, the boots should have: "ample ankle support, waterproof lining, grippy outsole and a cushy insole.
Also remember to bring an extra pair of boot laces in case yours tear and most importantly, make sure to break in your boots (because there isn't anything romantic about blisters)."
When hiking, jeans are a NO-NO. And don't forget to bring extra clothing and some water proof attire. It's a hiking trip. Who knows. You might fall into a lake coz your date pushed you romantically or it might rain…
What to bring:
If it's an overnight hiking date, don't forget to bring a well-cushioned sleeping pad and a cushy blanket. This will bring you closer when you snuggle close to each other when it gets colder or windier.
Carry a thermos with you to keep your drinks warm or cold, depending on the weather. Bring coffee, whiskey… whatever the situation permits.
Don't forget to bring a special treat for your date… some chocolaty stuff, truffles… whatever pleases your date. It's a date… you are trying to impress. And on your way back, if you aren't too tired, show your special someone that you can't get enough of the date by stopping for some night cap to extend this romantic adventure.
Mistakes to avoid…
. Be sure to counter check the weather before leaving. You don't want the weather to screw up your adventure and a chance to a second date.

Don't be rigid with the date plans. It's an adventure. The weather can make you take a detour. Allow time for such mishaps. And if you want your adventure to be romantic, just let it flow. Take the time to enjoy one another and each other's company. And if it's your first time hiking, take advantage of seeing in other in a new light.

On a hiking date, prolonged silences don't mean boredom. So don't feel the need to just talk randomly in a bid to break the silence. Make thoughtful conversations. Remember to just be yourself. Sometimes this silence is romantic.

Choose your hiking destination wisely. Find one that is easily accessible either by foot and road. Leave the further and intense hikes to couples who are used to hiking together.
Sneak peek at a hiking date:
Much as every couple has different experiences and adventures when hiking, this couple took a video to give us a feel of what a hiking date might look like…
Ready for that hiking date?
With the tips above, you definitely are. So don't limit your dates to dinners. Be adventurous. A romantic hike can really rekindle the flame and chemistry since it's something new and different you are bringing into your relationship.
Don't forget to make it as memorable as possible. Take pictures. Take videos. And…
SHARE YOUR ROMANTIC HIKING DATE WITH US…
1 responses to "How to Make a Hiking Date Worth the While"
Leave a reply
You must be logged in to post a comment.