Fashion Subscription Boxes - The New 2019 Trend
Posted by Nalini, 01 Feb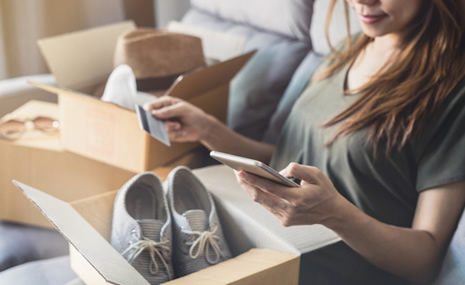 Looking to join the greatest fashion subscription boxes that are worth every coin? Check these ones brought to you by Love is All Colors...
The Best Monthly Subscription Boxes Fashion Lovers Will Die For
Find your soulmate on InterracialDatingCentral










Gone are the days when people browsed the stores endlessly for their clothes and accessories. Everything is moving at such a fast pace that no one really wants to check out rows and rows of clothes and other fashion accessories. It's no surprise that people purchase fashion the same way the world now buys everything - online.
With fashion subscription boxes, it is even easier to get the best styles available in the market. You get curated fashion content delivered to you at home. If you need suggestions of the best subscription boxes fashion has to offer in the market, then you are in the right place.
To get in on the action, these are some of the subscription boxes to keep you updated on all things fashion:
1. Shoedazzle
Shoedazzle is for shoe lovers everywhere! As a new member, shoedazzle prepares a quiz to know what you're into. Knowing your personal style helps shoedazzle to curate a virtual closet of must-have shoes just for you! To top it off, you get monthly updates on the best shoes money can buy. You can now choose from 100 new shoe designs every month.
Once you have stated your personal taste, you get the option of choosing from two membership plans: VIP Membership and Basic Customer. As a VIP Member, you can get access to a wide array of stylish shoes and discounts for your purchases.
2. Wantable
Wantable allows you to complete a style quiz, from which the system can determine your fashion tastes. This subscription service caters to women and men. Subscribers can choose from categories like women's fitness, men's fitness or women's apparel. You can also get huge discounts if you purchase the items in bulk!
3. Style Plan
This is the best plan for lovers of eco-friendly, sustainable fashion! You can care about the environment and look stylish at the same time. The style options here will set you apart from the crowd. Get clothes that are classic and chic. The materials are original and suitable for sharp, modern cuts.
With this beautiful selection delivered right to you, there's no need to comb the stores. To get a custom selection of clothes, members have to fill out a style survey with their preferred budget, size, and style. The monthly styling fee is affordable.
4. Golden Tote
Golden Tote is for the hottest fashionistas. Shoppers get the chance to buy the trendiest outfits and on a budget too. Members have the option of choosing from three totes: the Golden Tote, the Surprise Tote, and the Mini Tote.
5. Gwynnie Bee
This is the best clothing subscription box service for plus size beauties! There are lots of styles to choose from. Curvy women no longer have to wear boring clothes because that's what available in their size. This is a great plan for curvy women on just about any budget. There are fashion items for all aspects of your life. Whether you're looking for work clothes or clothes to wear on the weekend out with the girls, this is one of the best fashion subscription boxes for you.
Now you no longer have to worry about shops not carrying clothes in your size!
6. Le Tote
This fashion subscription box allows you to browse through a wide array of gorgeous trending styles. Members get their choice items as rentals. Hey, there's nothing wrong with trying out something before buying. You can also take advantage of some steeply discounted products if you pay full price. What's not to love?
Membership options are Classic and Maternity. So you can choose whichever fits you. If you want to additionally binge on everything fashion, you can follow their Le Tote Blog and get a feel!
7. Bento Boxes
This list of fashion subscription boxes wouldn't be complete without adding Bento Boxes. Get access to the smartest workwear on the market. The quiz questions try to determine your job and what you'd typically wear to work. From there on out, it is easier to send you a customized monthly subscription boxes fashion.
The subscription fee might be on the higher side, but you are getting great stuff for your money. Considering you are paying to remove the stress of having to trek all over the mall, the money is definitely worth it. Now you can find Bento Boxes pop-up stores and showrooms in various cities.
8. The Elliebox
Get in here, all lovers of activewear. Spice up your workouts with beautiful clothes and workout gear. Elliebox presents a stylish way to smash your workout goals!
Workouts don't need to be boring. Choose from their three plans and get the confidence you need both in the gym and at home. Become the #fitspo on everyone's feed!
9. The Trunk Club
The Trunk Club is a great fashion subscription box for lovers of trendy fashion. This subscription service has made it to this list of fashion subscription boxes because Nordstrom has decided to step in and change the game. The Trunk Club is different from other services because it gives members access to real life stylists. The stylists are there to tell and guide you about the clothes in your boxes before you get them.
The styling fee which comes with the monthly subscription boxes fashion is absolutely worth it because of all the high-quality items in the box!
10. Fabletics
Get the best selection of footwear, sportswear, and other accessories. This is one of the best fashion subscription boxes for runners, yogis, and anyone who loves getting physical. The style selection is both functional and pretty! There are bright colors and bold prints for people who are into that sort of thing. So go ahead and subscribe.
Members are treated to a great loyalty program that regularly gives out items at great discounts. What's not to like?
11. Infinite Style
Just as the name implies, you can get access to endless style options on this monthly subscription box fashion. This service is brought to you by (the) Ann Taylor! Members can rent clothes for all occasions and wear them as many times as possible before returning. Don't worry about the dry-cleaning. The service takes care of that. If you love a rental so much and want to keep it for yourself, you can buy it at 50% off.
This is great for people who love stylish clothing that they don't have to buy!
12. Borrow for Your Bump
Dress up your cute pregnancy bump with beautiful maternity fashion. You can rent outfits for that special occasion when celebrating your pregnancy. You can also register for one of the best fashion subscription boxes to get unlimited access to maternity fashion.
No need to spend lots of money on maternity clothes, especially as you wouldn't wear the clothes after your baby is born. For this reason, renting is a great option. Don't worry about cleaning the clothes. This service takes the responsibility of dry cleaning.
If you like an item and want to keep it, the purchase can be arranged!
13. Adore Me
Adore me stands out among other fashion subscription boxes because it caters to your underwear needs. Throw out any underwear that doesn't bring the fire and register on Adore Me to change your life. The quiz allows new members to choose their preferred style and fit.
Members get a beautiful set of underwear every month. VIP Members enjoy free shipping, sales for only VIP, and exchanges.
14. Nadine West
Nadine West's membership quiz allows you to state your fashion preference, so it would be easy to curate the fashion offerings according to your taste. This is the monthly subscription box fashion for lovers of gorgeous, affordable items.
Every month, you get an outfit and accompanying accessories in the mail. You can keep the items you love and send back whatever doesn't tickle your fancy.
15. My Fashion Crate
Members of My Fashion Crate get clothing, accessories and beauty products every month. Membership plans range from Essential Box to Premium Box. The non-subscribers are not left out! My Fashion Crate has a dedicated website for all things fashion. So, everyone can shop for dresses, jewelry and more!
Their mailing list keeps you in the loop. Now you can catch up on exclusive offers and new styles right there in your inbox.
16. The Luxe Catch
The Luxe Catch gives you access to designer clothes that won't cause a dent in your wallet. Fashion-loving women can now get designers' items at unbelievably low prices. This goes to show that you can be stylish no matter your budget.
Want to know just how discounted these prices are? A $250 subscription offers you the best designer clothes and accessories valued at $1000!
If you are in a multicultural relationship, check out some multicultural fashion trends to rock in for the next party!
Responses to "Fashion Subscription Boxes - The New 2019 Trend"
Be the first to leave a comment
You must be logged in to post a comment.