Dark-haired parents, red-haired baby - Was he swapped at birth?
Posted by James, 19 Nov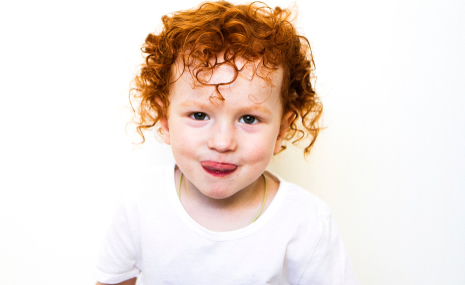 How would you feel if someone asked you if your child was swapped at birth? That is what people have been asking Ella Gayle and Christian Henman from Nottingham because their child has fair skin and red hair.
Ella, who is mixed race and has jet black hair was also shocked when her 7-month old son Luca was born with red hair. That said, Christian is white. However, his hair is also dark. So besides the questions from people, the couple have also been wondering where their blue-eyed baby got his looks from.
Find your soulmate on InterracialDatingCentral










"You can see Luca's hair from a mile off when we're out and about and people often stare because the two of us looks different," says Ella.
As much as the father's eyes are also blue, the ginger-haired Luca doesn't share a lot of similarities with his parents.
"People have jokingly asked if Luca was swapped at hospital and we were given the wrong baby but I had a home birth so that isn't actually possible", adds Ella.
Since the birth of her child Ella who is of Jamaican, Irish and Italian heritage has done lots of research and the deduction is that she and her husband Luca must be carrying the red hair gene.
Ella has 2 red-haired cousins. Well I guess we have the answer as much they are the only immediate family with ginger hair.
"People are forever coming up to us when we're out to comment on Luca's amazing hair; it's mainly abroad when I get funny looks from people about the obvious difference in looks between us.
"I don't mind people staring to be honest, I love to show Luca off."
And guess what? The kid has offers for modeling gigs. Exciting, right?
Well, to see the picture of Luca and his parents, visit the Mirror. The different will amaze you!
Responses to "Dark-haired parents, red-haired baby - Was he swapped at birth?"
Be the first to leave a comment
You must be logged in to post a comment.