A very different Halloween - 2020 costume trends
Posted by Darci, 04 Oct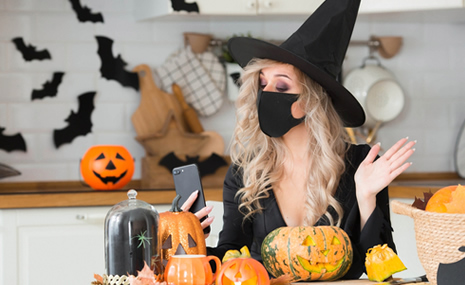 With the COVID-19 pandemic with us, we are definitely going to see some 'different' Halloween costume trends 2020. The whole affair is going to be different. For some people, because of social distancing, there won't be the usual Halloween parties where one can show off their costume. With everyone trying to stay safe at home, we also don't expect kids going from house to house 'trick or treating'. There definitely will be less neighborhood Halloween pranks. It's going to be a FaceTime and Zoom affair.
You are seriously going to love these great covid19 costumes. Well, let's take a look at what to expect this 'special' Halloween.
Find your soulmate on InterracialDatingCentral










How to celebrate Halloween in 2020
Now, much as you will not be throwing that big bash, Halloween is still worth celebrating. If you are wondering how to celebrate Halloween in 2020, there are so many ways that you can turn Halloween 2020 into some festive day worth celebrating and remembering.
One of the things that have always made this traditional holiday worth celebrating is the costumes. For me, I love the fact that one can be whoever they want on that single day of the year. Dressing up in costumes is one of the most obvious ways to celebrate this holiday.
Now as I mentioned earlier unless you are celebrating with close family that you have been quarantining with, this year's celebrations are going to be pretty different. You will probably be hosting a virtual costume parade or contest via Zoom.
I have been wondering what the Halloween costume trends 2020 are going to be like. One thing though, you need not let the pandemic and the self-isolation and lockdown dampen your spirit. Take advantage of the virtual world and show off your spooky cocktails, unique costumes, and all the décor that you will have set up in your home.
The thing is, you don't have to leave the house to celebrate this long-awaited day. We all need to still adhere to the US Centers for Disease Control and Prevention (CDC) guidelines on how to stay safe during Halloween.
You can just dress up in the comfort of your home. At the same time, if some movement is allowed within your area, you could take precautions while trick or treating. Wear a mask, sanitize, and maintain the recommended social distance.
Well, let's have a look at some of the trendy costumes to wear this Halloween. Feel free to DIY some of these…
2020 Halloween costume ideas to consider
Astronaut costumes - Full protection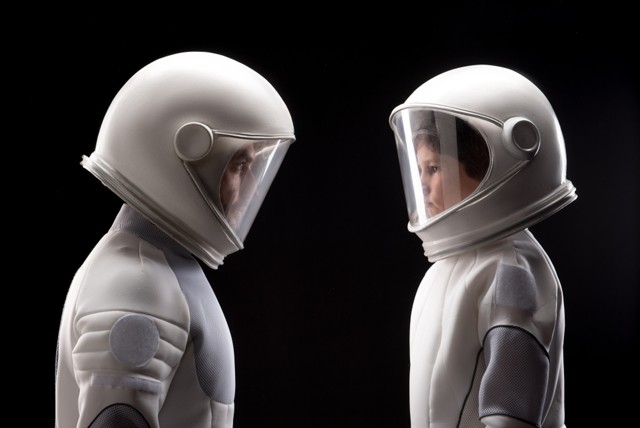 Remember Hilary Swank in the TV series Away? Well, with all these health requirements and precautions to combat and prevent the spread of COVID-19, if you don't know what to wear for Halloween, then consider the astronaut costume. This is one of the great covid19 costumes because, with this one, the whole costume just screams full protection.
Now that said though, such costumes might not provide the kind of protection required because they have no cloth covering that covers the nose and mouth. A word of caution when looking for costumes to wear this Halloween is that you should NOT pair your astronaut headgear with the cloth mask because as per the CDC, they can restrict breathing.
So comfortably tap into your inner astronaut with this costume for Halloween at the comfort of your home. Luckily you can find them online. Other variations to this are Star wars costumes and monsters. Plus given the COVID-19 MOH precautions, don't you think this is just perfect for Halloween 2020?
Donald Trump masks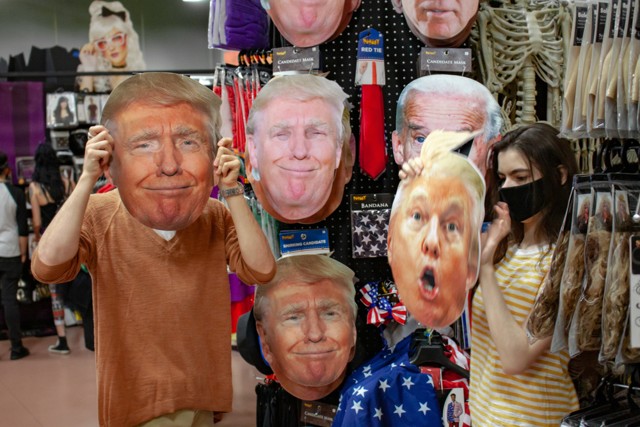 Photo credit: Raisa Nastukova / Shutterstock.com
If you missed the article that was discussing how America is in decline, there was a lot about how the US president, Donald Trump has been down the coronavirus pandemic. We can even remember how he mocked Joe Biden about how he wears masks throughout during the presidential debate. Well, unfortunate for him, Trump contracted Covid-19. One thing we expect to see is Trump masks. There is one online that depicts him as a sickly green version of the coronavirus. I am sure those who will buy this will be doing it to make a statement of how recklessly and erratically Trump has handled the pandemic.
The retro nurse costume - Bring out the health care provider in you
If you haven't watched the Netflix TV show, Ratched, then you better watch it. Sarah Paulson plays an asylum nurse going by the name Mildred Ratched. Now, what better way to hail, recognize, and appreciate all health workers who have risked their lives throughout the pandemic just to assist those ailing during this time.
Now, here is the Halloween twist to this nurse costume! On Ratched, this nurse character is up to no good! She is the sinister kind… Just watch it and see what we are talking about.
Other variations to this costume are the healthcare heroes' costumes – doctor or surgeon. Lucky for you, masks are already part of the costume – talk of life made easy.
Halloween pumpkin with mask – Everyone has to be protected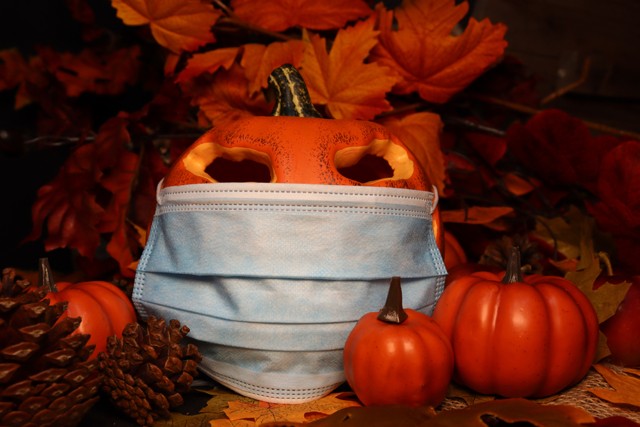 For those who are living in places with fewer restrictions, there probably will be some controlled and safe trick or treating that might happen. Well, one thing that most people will see incorporated in the Halloween costume trends 2020 is people carrying carved pumpkins that are strapped with cloth masks. This passes the perfect message: Everyone needs to have protection. That said though, remember that as per CDC trick or treating is one of the high-risk Halloween activities to participate in. Stay at home.
Slap a mask on any costume... even on your naked body ;-)
Whether it is dressing as a witch or ghost, the thing that is going to be common with the Halloween costume trends 2020 is, we are definitely going to see a lot of masks on these costumes. All you need to do is get creative, draw on the mask, and also, wear a mask that matches your costume in order to have a well-integrated look. If you are going with the witch look above, it won't hurt to get a black one. Plus, spice things up in the bedroom with masks lingerie.
Whether this year you are going to wear your mask in the house or at a distance, STAY SAFE, and engage in sensible activities that minimize your risk to exposure. Now that you have some ideas of what to wear for Halloween, I wonder how those with kids are going to break the news of "there will be no trick or treating this Halloween".
For more articles on how coronavirus has changed our lifestyle, visit Love is All Colors.
Responses to "A very different Halloween - 2020 costume trends"
Be the first to leave a comment
You must be logged in to post a comment.