5 things you can learn from Ashley Graham
Posted by Nalini, 16 Sep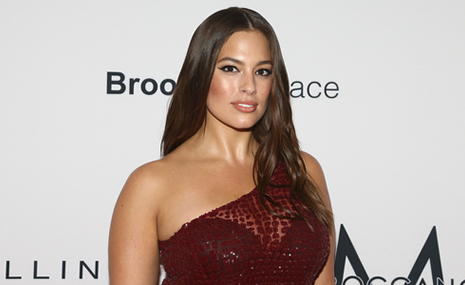 Photo credit: Debby Wong / Shutterstock.com
Who is Ashley Graham? Graham is the 31-year-old plus-size model who not long ago, revealed that she and husband Justin Ervin are expecting their first baby together. So what do we know about her? Read on as we give you the scoop into the couple's life.
Find your soulmate on InterracialDatingCentral










Ashley Graham pregnant
So why all the fuss about this particular celebrity pregnancy announcement you might ask.
This particular pregnancy announcement on social media couldn't have been any cuter.
"Surprise" they both exclaimed in a video they made together on Instagram. This news was shared on their ninth wedding anniversary and it couldn't have been captioned any better. It read;
"Nine years ago today, I married the love of my life.
"It has been the best journey with my favorite person in the world!
"Today, we are feeling so blessed, grateful and excited to celebrate with our GROWING FAMILY! Happy anniversary, @mrjustinervin
"Life is about to get even better."
As it is with the internet the hot couple received tonnes of congratulatory messages from fans as well as other celebrities such as Yara Shahidi, Hailey Bieber, Reese Witherspoon, Joe Jonas, Kate Bosworth, Chanel Iman and many more. The list is endless. Here are some of the things we can learn about Ashley Graham and her husband Justin Ervin.
1.      Ashley had no fertility issues
Now there are those of us who can't help ourselves but butt into people's lives with assumptions and speculations. One internet troll suggested that Ashley had fertility issues which read: "I can tell sis probably struggled to have this baby." This is very rude and very intrusive. It's really none of anyone's business. It's like posing the disbelief question: Ashley Graham pregnant?!
Well, she set the record straight with this internet troll replying: "Saw your other 'pressed AF' comment. Not sure why you are commenting or following if you are just going to hate. Love you sis and hope you find some peace & positivity."
It's sad that people will always poke holes even when none can be found. It's unfortunate that Ashley had to deal with this. Graham is a very open woman. And having chosen to share with her fans her journey through her pregnancy is amazing.
2.      Ashley Graham husband is so excited to be a father
This proud mama to be wasn't the only one who was excited about their baby news or sharing their mushy anniversary message on Instagram. Ervin couldn't contain himself. He shared the photo of the sonogram too with some other pictures he and the wide have taken over the years.
He captioned it:
"To my forever love and my daily inspiration. Happy anniversary @ashleygraham.
"These 9 years have played out like a lifetime. I guess it's because my life really started once you came into it.
"Now that we've made a life together, let's make a life together. I love you and I love us. All of us…"
It's not every day you hear a husband publicly declaring that the wife is his daily inspiration. He must have been really thrilled and couldn't wait to share these exciting news with the whole world. And to that, Graham responded with: "You make me so happy. Thank you for these nine years!! I'm so excited for our next chapter together".
3.      Her family wasn't approving of their interracial union.
Now, just because you are famous doesn't make you immune to the challenges that interracial couples go through. Ashley and Justin had their fair share of disapproval. Her family wasn't totally on board when it came to their interracial relationship at the onset. She opened up to People Magazine once saying: "When my grandparents met Justin, my grandmother was cordial but cold. "She greeted him and immediately walked away. When it came time for them to leave, my grandparents didn't even acknowledge him. I had never seen my loving, hardworking, and wonderful grandma be so hurtful and so racist. I was in shock."
But in the end, Ashley Graham husband won the heart of her disapproving grandma. He wowed her when she called her to wish her well on her sixtieth wedding anniversary. Immediately after that Ashley's grandma called her mom in disbelieve. "You'll never guess who called me." And ever since that day, he began showing him love and still does.
The thing with interracial relationships is sometimes it can be quite hard to convince everyone that your relationship is just like any other. That said, this doesn't mean that they will never turn around. Sometimes all that is needed is a little patience and some will come around. All you need to do is try and prove that your relationship is worth every while. Those who will come around will do. Those who won't then accept that in life, you win some and lose some.
4.      Ashley and her husband waited until they were married to have sex
These two met in church when Justin was volunteering at Ashley's church in New York City. And when they met, she was distantly smitten. "All I wanted to do was keep talking to Justin… The consistency and openness was so new it felt weird," she opened up in her book. Well, if they met in church, it kind of makes sense that they waited to have sex after marriage:
"My romance with Justin was innocent and sweet. We went rollerblading and biking; we did karaoke, went to the movies, took an improv class together."
She also added in her book: "Because we weren't sleeping together—for Justin, abstinence was a firm commitment to his faith—we never tempted ourselves by going over to each other's apartments late at night."
Wow. Well, that ended up working out just perfectly for Ashley too. She opened up that she used to feel as if she was losing her power in her previous relationships. The sexual tension between them was real. But what was important is that they had established a deep friendship in mind which was magical. Graham added: "…not only am I sleeping with someone that I trust and I love, but I know that he wants me. He affirms me all the time and lets me know how sexy and beautiful I am."
Well, people, it can be done. Quite a number of celebrities are choosing to wait so that they can make their wedding day special and more magical. If you are dating for the long haul, would you consider the option?
5.      Ashley and her husband once did a photoshoot together
Have you seen the bodies on this couple? First of all, both of them are into working out. Both of them are hot. Plus, they both have hot bodies.
In 2016 Ashley Graham posed topless for the Maxim. And in one of the shots, the husband's hands were covering her boobs. "Yes, those are my husband's hands supporting me."
Apparently, it was Justin's idea to get on the shoot with her.
The couple is very supportive of each other. They sometimes work out together. And when she shares those videos of the two of them getting fit together with Justin shirtless, we can't help but drool over him. Well, if we can't have the support of each other's careers as a couple, who else can support us?
For more articles on inspiring celebs, visit Love is All Colors.
Responses to "5 things you can learn from Ashley Graham"
Be the first to leave a comment
You must be logged in to post a comment.